> [Archived] Events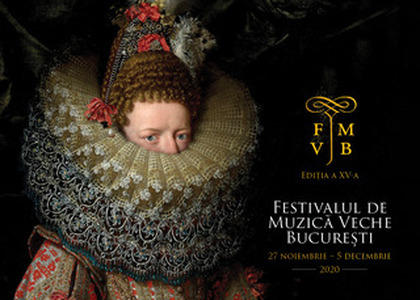 15th edition of the Bucharest Old Music Festival
Friday, 27 November 2020 , ora 18.53

The 15th edition of the Bucharest Old Music Festival takes place from 27th of November to 5th of December 2020. In this difficult year, the event organisers decided that it should go ahead and take place in an online version. Moreover, the visual of this year's edition, a portrait by the artist Volker Hermes, perfectly reflects the state we are in today and we believe it will become a veritable time capsule. Anyone who will see it, will know unequivocally that it is 2020, the year of grace.
The current edition focuses on the music of the 17th and 18th centuries (with small escapades outside this time interval), the poster being the names of composers such as Johann Sebastian Bach, Georg Friedrich Hndel, Robert de Vise, Georg Philipp Telemann, Heinrich Inaz Franz von Biber, Jean-Marie Leclair and others.
It is an edition that aims to bring into your house some of the most important pages written for harpsichord, theorb or violin, a true royal sound. This 7 events of this year bring to the public of Bucharest, and beyond, sound names from the universe "early music" and old friends of the Festival, such as Xavier Daz-Latorre (Baroque/Teorb guitar), Ketil Haugsand (harpsichord), Yuko Inoue (fortepiano), Melinda Bres (Baroque violin), Mircea Ionescu (Baroque violin), Rafael Butaru (Baroque violin), Csibi Dvid (Baroque viola), Ciprian Campean (Baroque cello), Istvn Csata (viola da gamba and violin) and Raluca Enea (harpsichord) or the "Codex" Old Music Ensemble (St. George), among others.
Official program - Bucharest Old Music Festival, 15th edition, 2020:
Bach by Concerts
Friday, 27th of November 2020
Melinda Bres, Mircea Ionescu, Rafael Butaru - Baroque violins Csibi Dvid - viola baroque Ciprian Campean - baroque cello Istvn Csata - violin Raluca Enea - harpsichord

The Guitar of the Roi
Saturday, 28th of November 2020
Xavier Daz-Latorre - Baroque/Teorb guitar

Solo or 2
Sunday, 29th of November 2020
Melinda Bres, Csibi Dvid - Baroque violins

Viola da gamba - The Story
Monday, 30th of November 2020
Istvn Csata - viola da gamba
Raluca Enea - harpsichord

Bach. Sons and Friends
Thursday, 3rd of December 2020
Ketil Haugsand - harpsichord
Yuko Inoue - fortepiano

Sweet carmen and melodum
Friday, 4th of December 2020
Ensemble of Old Music "Codex"

Handel vs Handel
Saturday, 5th of December 2020
Cristina Vasilache - soprano
Mircea Ionescu, Rafael Butaru - Baroque violins
Ciprian Campean - Baroque cello
Raluca Enea harpsichord
All concerts can be watched online, live stream, on earlymusic.ro website, facebook page and Youtube channel - Bucharest Early Music Festival. Online concerts and rehearsals for them are organized with strict application of the legal regulations in force - Joint Order of the Ministry of Culture and The Ministry of Health No. 3.142/1.495/2020 (annex as amended by Order No 3.205/1.708/2020) on measures to prevent contamination with the new SARS-CoV-2 coronavirus and to ensure safe health activities in the field of culture.

Translated by Dărăban Denisa,
University of Bucharest, Faculty of Foreign Languages and Literatures, MTTLC, year I
Corrected by Silvia Petrescu