> [Archived] Events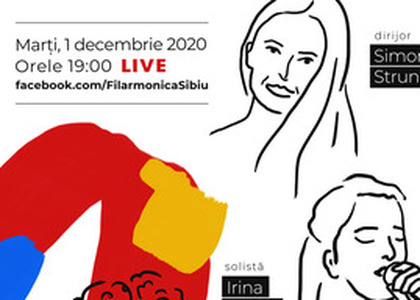 Sibiu Philharmonic- The symphonic folklore for The National Day
Thursday, 3 December 2020 , ora 15.26

A program formed of 100% symphonic adaptations of some traditional Romanian songs can be live watched on Romania's National Day. Along with the musicians of Sibiu Philharmonic, conducted by charismatic Simona Strungaru, two soloists with spectacular voices and charming appearances will be on the stage: Irina Sârbu și Elena Dediu. The concert will be broadcast live on the Youtube channel and Facebook page of the institution, starting with 7 p.m.
After the spectacular concert of the Sibiu orchestra from Romanian Athenaeum, dedicated to The National Day in 2019, this year, the traditional Romanian rhythms adapt to an ensemble that respects the social distancing rules, in The Brukenthal Music Station. The concert, generically titled "Tribut Maria Tănase", has in fore ground the jazz lover soloist Irina Sârbu. "Bun îi vinul ghiurghiuliu", "Butelcuța me", "Mărie și Mărioara", "Un țigan avea o casă" or "Mă dusei să trec la Olt" are just some of the works that the public will meet online during this extraordinary concert.
The unique "Suita simfonică în stil românesc" by Simona Strungaru will complete the program of the evening. For this work, the soprano Elena Dediu was invited for the first time in Sibiu.
Along with the three guests, we will enjoy the presence on the stage of the musicians from
Sibiu Philharmonic Symphony Orchestra.
The concert will be broadcast live from Thalia Hall of Sibiu Philharmonic on the Youtube channel, on Facebook page and on the Sibiu Philharmonic application, on Tuesday, December 1st, 2020, starting with 7 p.m.

Translated by Călinescu Emilia-Georgiana,
University of Bucharest, Faculty of Foreign Languages and Literatures, MTTLC, year I
Corrected by Silvia Petrescu