> [Archived] Events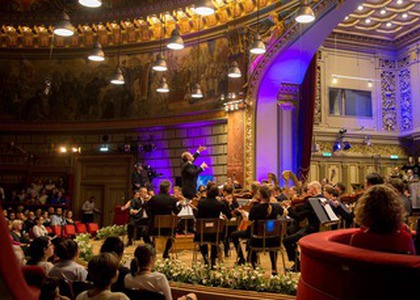 Romanian Poem by George Enescu in premiere on FestivalEnescu.ro for the National Day of Romania
Monday, 7 December 2020 , ora 11.37

The George Enescu International Festival is inviting music lovers at the premiere of Romanian Poem on the site www.festivalenescu.ro, to celebrate the National Day of Romania. Romanian Poem was first played at the Enescu Festival at the 2017 edition, at the Romanian Athenaeum, by the French orchestra Les Siècles and the Royal Choir, under the guide of the master François-Xavier Roth. The recording of the concert can be watched for free starting Monday, November 30th, until Christmas Eve, at this link.
Romanian Poem is the first ever orchestral piece created by George Enescu, in 1897, when he had just graduated the Conservatoires from Vienna and Paris. Although he was just 16 years old when he wrote it, the creation is a valuable accomplishment, as Enescu had, even at that age, a crucial grasp of the orchestra. By that age, the great musician had already composed three out of the four school Symphonies for orchestra, a Concerto for violin, a Ballade for violin and orchestra, a tragicOverture, and a Fantasia for piano and orchestra.
The premiere of Romanian Poem took place in Paris, in January 1898, under the lead of Edouard Collonne. Eenescu himself conducted the first performance in Bucharest, in March 1899. Dedicated to Queen Elisabeth of Romania, the Poem was never played on the Romanian stage between the years 1948 and 1989 out of political reasons, as the creation ends with the notes of the Royal Anthem (Long Live the King), the Romanian national anthem from 1884 to 1948. It was included in a concert of the Bucharest Philharmonic only in 1990.
Together with the documentary film World in Harmony, about the 2019 edition of the Enescu Festival, the recording of the piece of work Romanian Poem represent the contribution of the George Enescu International Festival to the digital campaign launched by the Ministry of Foreign Affairs in honor of the Romanian National Day, as to promote the Romanian culture across the borders, through the 150 diplomatic missions and honorary consulates of Romania.

Translated by Tufă Nina,
University of Bucharest, Faculty of Foreign Languages and Literatures, MTTLC, year I
Corrected by Silvia Petrescu