> [Archived] Events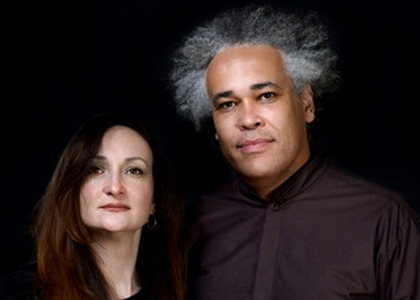 Pianist Monica Florescu and cellist Makcim Fernandez Samodaiev, soloists of a new symphonic concert with the Csik Chamber Orchestra
Thursday, 10 December 2020 , ora 14.18

Pianist Monica Florescu and cellist Makcim Fernandez Samodaiev are the soloists of a new symphonic concert with the Csik Chamber Orchestra, on Thursday, the 10th of December, at 6 pm, at Cinema "CsikiMozi" in Miercurea Ciuc, with violinist Veress Csaba as concertmaster.
The programme proposed by the Florescu-Fernandez family musicians brings together classical pieces from composers Joseph Haydn ("Cello Concerto No. 1 in C major") and Ludwig van Beethoven ("Piano Concerto No. 4 in G major, Op. 58"), as well as a contemporary piece by composer Vincent Ghadimi ("Pop Corn- 2020- for string orchestra"),performed for the first time ever in Romania.
The "Piano Concerto No. 4 in G major, Op. 58" by Ludwig van Beethoven is the piece with which pianist Monica Florescu ends her 2020 list of recitals. "For me, it is a challenge to make out of this concert a chamber music one. Since it is performed without a conductor, it requires a different implication of the pianist in relation with the orchestra. In fact, several passages become more personal in this arrangement, while the tension and concentration grow. Of course, this brings nothing but a well-deserved satisfaction", says Monica Florescu.
For cellist Makcim Fernandez Samodaiev, the soloist position in the concert in MiercureaCiuc is a both technical and individual challenge. "The soloist mission is to know how to transmit an idea and a spectrum of emotion through which the musicians you are performing with are able to accept and follow. This mission only grows in importance when the soloist is the conductor, too. I like to turn an idea into a sound and I'm glad to have the chance to do this, thanks to the invitation of the Csik Chamber Orchestra."
Public access will be allowed at the concert, and tickets can be purchasedfrom www.bilete.ro or the box office of "CsikiMozi".

THE FLORESCU-FERNANDEZ FAMILY MUSICIANS
Pianist Monica Florescu and cellist Makcim Fernandez Samodaiev excel in chamber music and as concert soloists, with an experience achieved in years, during which they worked on different projects, from chamber music concerts and awarding for contemporary compositions, to complex collaborations with artists well-known in the domain of classical music and inter-disciplinary projects in collaboration with ballet and theatre companies.
During their artistic life, they have participated at international festivals such as Philippe Herreweghe Festival (Belgium), Steinway Festival (Belgium), Fontainebleau Festival (France), Les Festivals de Wallonie(Belgium), Festival van Vlaanderen (Belgium), the 25th edition of the Havana Festival of Contemporary Music (Cuba), "Siglo XXI" Festival (Mexico), Wuzhen Theatre Festival (China).
Settled down in Sibiu, after years of studying, living and performing in different countries in Europe and Mexico, they initiated an independent project in 2015, performing to a full house every month. "Florescu- Fernandez & Friends" chamber season proposes a series of monthly concerts, where the guests are famous musicians of Romania, but also outside of Romania, such as the South-Korean violinist Edwin Kim, pianist Ana Kavalerova, violist Răzvan Popovici, violinist Kristie Sue and many others. These concerts also bear an educative dimension, each performed composition being introduced by brief explanations and historical references.

CSIK CHAMBER ORCHESTRA
The Csik Chamber Orchestra was found in 2001, and its founding members were student of the Nagy István Art High School, under the guidance of conductor and pianist SzőnyiZoltán, professor from Târgu-Mureș.
The first concert performed in Miercurea-Ciuc, as string orchestra, took place in June 2001, and was followed by many other participations at local events and, then, by the initiation of their own artistic season. Since 2002, the orchestra has honoured several invitations from abroad, being broadcast on radio stations as MR1Bartók Radio and Radio Târgu-Mureș. Due to the occasional support, they also performed as symphonic orchestra, but kept the name Csik Chamber Orchestra.
In the autumn of 2006, the orchestra received an invitation to perform in the grand hall of the Liszt Ferenc Academy of Music, in Budapest. Duna TV realized a documentary film about the orchestra, which was broadcast on the 18th of November, 2016, with the name "The Music of Ciuc and Salzburg".
Since 2008, the orchestra has been holding annually more than six big orchestral concerts, among which it supports, vitalizes and organizes a number of classical music events. The most internationally acclaimed one is the Early Music Festival in MiercureaCiuc, which celebrated its 39th anniversary in 2019. In 2017 they initiated the "Autumn Piano Evenings" followed by the "Chamber Music Autumn Evenings" and a series of concerts dedicated to the young ones- "BonBon Matiné".
Photo credit: Cristina Bobe

Translated by Mihaela Dumitrescu,
University of Bucharest, Faculty of Foreign Languages and Literatures, MTTLC, year I
Corrected by Silvia Petrescu