> [Archived] Events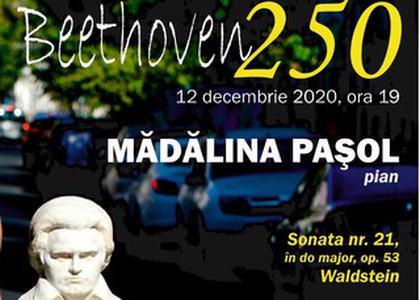 Beethoven 250 – Madalina Pasol piano recital
Monday, 14 December 2020 , ora 10.31

Saturday, December 12th, at 7 pm the chamber season of Philharmonic George Enescu propose a Beethoven recital, held by the pianist Madalina Pasol.
Beethoven 250 recital has been scheduled for March, but was delayed because of the pandemic. Now, its my huge honor and my joy being able to hold it, even in close proximity of the 17th of December 2020, when 250 since the great composer born are fulfilled.
In this very difficult period for the humanity, in which the artificial intelligence tries to dethrone the human, I hope that we can make another step to the profound understanding of the universal classical music message, dedicating a few moments from our everyday life to the Beethovens creative force. Thereby, I am sure that we will be able to perceive, more fully and profound, the connection that art establishes between the humanity and divinity! (Madalina Pasol)

Saturday, December 12th, at 7pm, Romanian Athenaeum
Piano recital Madalina Pasol
Papers in program by Ludwig van Beethoven (1770-1827): Sonata in Do major, nr. 21, Op. 53- Waldstein, Sonata in Do minor , nr.32, Op. 111, Sonata in sharp do minor quasi una fantasia nr. 14, Op. 27, nr. 2, The sonata of the moon.
The pianist Madalina Pasol graduated from the music Highschool George Enescu from Bucharest, than the University of Arts in Berlin (prof. Georg Sava and prof. Pascal Devonyon). She claimed the "Nachwuchs Frderung Stipendium - NaFg" scholarship of Cultural German Senate for master classes, as well as the professional pianist diploma. Also, she benefits from scholarships given by the Foundation Paul Hindemith, University of Arts in Berlin, Foundation Georg Schumann. She was awarded with prize at International Contest for piano Fer-ruccio Busoni, International Contest ARD- Munich, she claimed The Big Prize at International Contest of concerts Targu Mures. She perfectionated herself at plenty courses of mastery hosted by Karl Leygraff, Gyrgy Sebk, Claude Frank, Wladimir Merdjanoff, Ludmila Popiteanu, Stela Drgulin, Gnther Ludwig, Andrej Ijinsky. In her tours, the pianist played as a lead singer, or in chorus, together with soloists and world-renowned artists like the clarinetist Giora Feidmann at Philharmonic in Berlin, Jakov Kreizberg and The Comic Opera Orchestra from Berlin, The University of Arts Orchestra from Berlin. In Romania, Madalina Pasol performed with philharmonics in Arad, Constanta,Ploiesti,Craiova, Targu Mures, with the Romanian Radio Chamber Orchestra. In 2010-2014 she was postgraduate and teacher at Music University of Bucharest.
Since 2014, Madalina Pasol is president of the Art Institution, which promotes Romanian artists and national cultural values. In 2016 the pianist worked with Music Film Festival -ARCUB and debuted as a jazz pianist in Jazz Festival Ferentari, in 2017 she performed besides the National Radio Orchestra at International Festival George Enescu .
The recital will be able to be listened on the Facebook page of Philharmonic and onYouTube channel.

Translated by Bianca Dumitru,
University of Bucharest, Faculty of Foreign Languages and Literatures, MTTLC, year I
Corrected by Silvia Petrescu