> [Archived] Events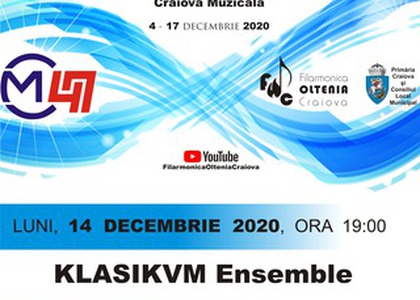 'Craiova Muzicală' International Festival – the 47th edition, the 4-17th of December, 2020
Monday, 14 December 2020 , ora 10.36

On Monday, the 14th of December, 2020, at 7 PM, during the 'Craiova Muzicală' International Festival, Klasikvm Ensemble is holding an online recital available on the YouTube channel of the Oltenia Philharmonic in Craiova.
GABRIEL GHEORGHE (violin), ALEXANDRA ANDREESCU (violin), IULIAN POPOVICI (viola), ALEXANDRU DUTULESCU (cello), MARIUS BARAN (double bass), CĂTĂLIN OPRIȚOIU (flute), CRISTINA ORDEAN (oboe), CIPRIAN MELENT (clarinet), IOAN GABRIEL LUCA (horn), MARIUS SUCIU (trumpet), CĂTĂLIN BUCERZAN (trombone), GRIGORE BĂLEANU (percussion).

On the schedule:
Johann Strauss II: "Blue Danube" Waltz, op. 314, "Tritsch-Tratsch" Polka, op. 214, "Voices of Spring" Waltz, op. 410, "Hunting" Polka, pp. 373
Constantin Dimitrescu: Rural dance
Béla Bartók: Romanian dances
Iosif Ivanovici: "Danube waves" Waltz
Johann Strauss II: "Imperial Waltz", op. 437, "Ohne Sorgen" Polka, op 271
Pascual Marquina Narro: "España cañi"
Gerónimo Giménez: "La Boda de Luis Alonso"
Johannes Brahms: Hungarian dance no. 5

"Craiova Muzicală" International Festival, the 47th edition, organized by "Oltenia" Philharmonic in Craiova has reached its fourth and second-to-last evening, with a KLASIKVM ENSEMBLE recital - a project initiated by the elite musicians in Bucharest, who want and believe in promoting a new attitude in the art of music interpretation. The event is broadcast online, starting 7 PM, on the You Tube channel of the Oltenian Philharmonic: https://www.youtube.com/c/FilarmonicaOlteniaCraiova.

Why KLASIKVM Ensemble? "Firstly, let us explain the name. KLASIKVM means classical and it expresses elegance and excellence. There are classics who use "V" instead of "U" in the name, to show respect to our own tongue, Romanian, which orginiates in Latin, where the letter "V" is pronounced as "U". The aim of the endless individual and orchestral study hours of the musicians who have formed KLASIKVM Ensemble was that the formation should become a musical permanence and an artistic certainty in the cultural environment of Bucharest, Romania and, why not, Europe. The members of the KLASIKVUM ensemble, respected musicians of the Romanian cultural stage, have made themselves known throughout the years either as soloists, or as members of other orchestras and national or international ensambles. Their activity is frequently awarded with prizes by prestigious national or foreign juries.
KLASIKVM Ensemble is a flexible formation with respect to its composition. Built on the classical section of strings, in accordance with the approached repertoire, the palette of the distribution of the ensemble is completed by wind instruments and percussion. KLASIKVM Ensemble approaches the preclassic, late romantic and contemporary repertoire. The project has had an intense concert activity on important stages, such as the stage of the Romanian Athenaeum, of the Palace Hall, Radio Hall, Mogosoaia Palace, Cotroceni National Museum and has made its appearance at national festivals, such as Bucharest Music Film Festival, or at international ones. The artistic quality of the interpretation of classical music is granted by the acquired professional experience, as well, as a result of refresher courses which they have attended, in the country or abroad, as well as a result of the permanent collaborations with important orchestras in Europe, such as Hamburger Symphoniker, Stuttgart Symphony Orchestra, Basel Orchestra, Philharmonie der Nationen, Simfonica de La Coruña.

Translated by Handrea Alexandra,
University of Bucharest, Faculty of Foreign Languages and Literatures, MTTLC, year I
Corrected by Silvia Petrescu