> [Archived] Events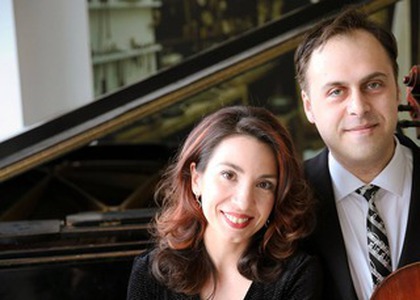 A Tuesday's performance with NO AUDIENCE. Chamber recital. Duo Popa
Wednesday, 16 December 2020 , ora 9.03

On Tuesday, the 15th of December at 19:00, thelast concert of 2020 will be broadcast on the YouTube and Facebook page of the George Enescu philharmonic and on the Facebook page of Radio România Muzical. The concert with no audience is part of the 2020-2021 Tuesday Night performance. The main protagonists of the evening, the violinist Eugen-Bogdan Popa and the pianist Anamaria Biaciu-Popa, wished to offer an attractive, colourful and diverse experience for the chamber recital evening. The main choices were Beethoven, Couperin, Tchaikovsky, Ravel, Gershwin, each with their own tunes that one could listen to repeatedly.
On Tuesday, the 15th of December, at 19:00, Romanian Athenaeum, Sala mică EUGEN-BOGDAN POPA - violoncello

ANAMARIA BIACIU-POPA - piano
Timetable:
Edward Elgar - Salut d'amour
François Couperin - Pastorale
Ludwig van Beethoven - Andante con variazioni, WoO 44b
Gabriel Fauré - Sicilienne
Antonin Dvoűák - Humoresque, op. 101, no. 7
Antonin Dvoűák - Songs My Mother Taught Me, op. 55, no. 4
Serghei Rahmaninov - Andante from Sonata op. 19 for cello and piano
Pyotr Ilyich Tchaikovsky - Lensky's Aria , from opera ,,Evgheni Oneghin"
Pyotr Ilyich Tchaikovsky - Nocturne, op. 19, no. 4
Enrique Granados - Andaluza
Alexandr Scriabin - Prelude, op. 9
Jules Massenet - Elégie, op. 10, no. 5
Maurice Ravel - Pièce En Forme de Habañera
George Gershwin - Three Preludes
Eugen-Bogdan Popa was born in Iasi in 1980, and graduated the College of Arts "Octav Bancila" under the tutelage of professor Eugenia Liliana in his home town, and later finished the National University of Music in Bucharest, attending the class of professor Tiberiu Ungureanu. Ever since 2001, he has been a member of the Symphonic Orchestra of the George Enescu Philharmonic of Bucharest. Together with his wife, Anamaria Biaciu-Popa, he is often holding delightful performances. While being part of the ClavioArte trio, he is also a member of the bands PROFIL, PROPULS and SonoMania (contemporary music). He collaborated with the National Radio Orchestra, and the "Virtuozii din București" orchestra.
Anamaria Biaciu-Popa was born in Oradea in 1985 and graduated from the "Dinu Lipatti" National College of Art in Bucharest. At the National University of Music in Bucharest,she attended the class of professor Veronica Gaspar for her Bachelor and Master degree. She participates in master classes (piano performance and chamber music) in important centers from Luxembourg, Italy, Austria and Germany, under the guidance of teachers like Raluca Wagenhäuser, Wolfgang Wagenhäuser, Dana Protopopescu, Sergey Maltsev. She is currently a piano teacher at the "George Enescu" National College of Music in Bucharest and has constant artistic activity. She is a founding member of chamber ensembles: Les Enharmoniques, Popa duo and BBP trio.
The performance will be available free of charge on the Philharmonic's Facebook page and YouTube channel of the philharmonic, as well as the Facebook page of Radio România Muzical.

Translated by Cocîr Elena,
University of Bucharest, Faculty of Foreign Languages and Literatures, MTTLC, year I
Corrected by Silvia Petrescu