> [Archived] Events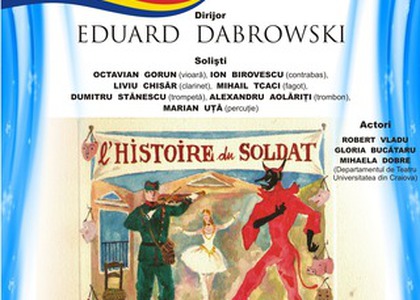 "The Soldier's Story", a masterpiece of the 20th century music, on Friday, at the 'Oltenia' Philharmonic Craiova
Wednesday, 13 January 2021 , ora 15.44

The "Oltenia" Craiova Philharmonic invites you on Friday, January 15th, at 7PM, tothe "SOLDIER'S STORY" show, a masterpiece of the 20th century music. The surprising music written by Igor Stravinsky is performed under the baton of conductor EDUARD DABROWSKI, by soloists OCTAVIAN GORUN (violin), ION BIROVESCU (doublebass), LIVIU CHISĂR (clarinet), MIHAIL TCACI (bassoon), DUMITRU STĂNESCU (trompet), ALEXANDRU AOLĂRIȚI (trombone), MARIAN UȚĂ (percussion). The actors ROBERT VLADU, GLORIA BUCĂTARU, MIHAELA DOBRE, from the Theater Department of the University of Craiova, will also participate.

STRAVINSKI composed the work"THE SOLDIER'S STORY"during the First World War, when he was in Switzerland with his friend, the Swiss prose writer Charles Ferdinand RAMUZ. The music retains a specific Russian intonation. Ramuz created a story - a parable inspired by the collection of Russian fairytales by Alexander Afanasiev. A soldier sells his devil's violin in exchange for a book that predicts the future of the world's finances. The violin, the motif of the faustic fair, represents the soldier's soul and the currency.
With the recited and danced action, accompanied by orchestral musical paintings, different from the opera genre, Stravinsky broke all the canons, creating an atypical form of performance, difficult to fit into a certain genre. With a small budget, Stravinsky envisioned a "concentrated" orchestra with only seven instruments.

EDUARD DABROWSKI is a young Romanian composer and conductor born in Brașov, Transylvania. He is best known for the music of the documentary films Sw!m and Banatul Montan, movies whose soundtrack is available worldwide on all music platforms on all continents. In addition, he also has music for various commercials, trailers or even music for concert scenes.
His music was sung by the National Opera Orchestra of Kiev, the Orchestra of the "Oltenia" Craiova Philharmonic and the orchestra of the National Opera and Ballet Theater of Constanța. He is also the winner of the "Sabin Păutza" Composition Competition, 2019 edition. Regarding the world of conducting, Eduard is, since 2018, the permanent conductor of the Kamer Art orchestra, an orchestra of pupils and students, with whom he came to perform on the stage of the Romanian Athenaeum. He also conducted the orchestras of the Craiova and Ploiești Philharmonic Orchestras, as well as the Orchestra of the National Opera and Ballet Theater in Constanța. Eduard is also the winner of the "Ionel Perlea" Conducting Contest, 2017 edition.
We are waiting for you in the concert hall of the "Oltenia" Craiova Philharmonic at a surprising show that combines tango rhythms, marches, waltzes or choirs, giving birth to a homogeneous and original work. The concert will take place with the public in the hall, with the limitation of seats to a maximum of 120 peoplea ndcompliance with medical safety measures: music lovers' access on separate input-output circuits, temperature measurement, hand sanitizer, wearing a face mask, physical distance of at least 2 meters between spectators.

Translated by Crețu Elena,
University of Bucharest, Faculty of Foreign Languages and Literatures, MTTLC, year I
Corrected by Silvia Petrescu