> [Archived] Events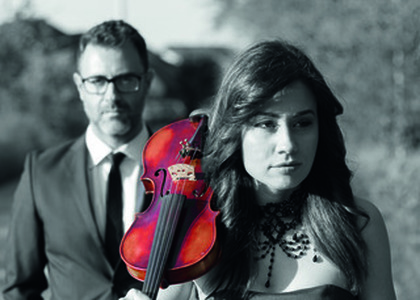 EMINESCIANA 2.0- The National Culture celebrated through music, poetry and image
Thursday, 14 January 2021 , ora 15.11

Starting with The National Culture Day and ending with the Principalities Unification Day, between the 15th and 24th of January, the violinist Diana Jipa and the pianist Stefan Doniga will be the protagonists of a new series of events dedicated to the musical and literal Romanian creation and presented online under an illustrative name for the connection between tradition and modernity which it suggests: EMINESCIANA 2.0.
The project produced with the support of the Ministry of Culture in the context of the celebration of National Culture Day, will present in a modern and complex cinematograohic perspective texts from the Eminescian lyric combined with music that belongs to the great Romanian composers. The lines will be brought to life by important figures of the Romanian dramatic stage who will join the two young musiciens: MAIA MORGENSTERN, GHEORGHE VISU, CRISTINA DELEANU, EUGEN CRISTEA, SIMONA VINTIL will recite not only in Romanian language, but also in French, German and Hebrew. Next to them the producer and television British man CHARLIE OTTLEY will come with an original version in English of the poem "Ce te legeni?".The translations of the texts belong to some illustrious poets and Romanian translators like Lucian Blaga, Elisabeta Isanos, Adrian George Sahlean and Adina Rosenkranz Hercovici.
Thus, The National Culture celebration will be an opportuntity to discover the universality of the Romanian creaton, masterpieces like "La steaua", "O, rmi" or "Trecut-au anii", being placed beyond the border of language which reborned at the same time with them, bringing them into the modernity through a complex combination of music and image in which special effects will be used like large projections, aerial footage, curtains of smoke and games of lights. The directing of the whole project is by Anca Colteanu and the video production is by Mihai Toma.
The series of six videos will be streamed starting from the 15th of January, 20:00 oclock, with a frequency of a premiere at two days, on the Facebook pages of the protagonists of the project and of their partners:
- Radio Romnia Muzical
- The National Operetta Theatre and Ion Dacian Musical Bucharest
- The Braov Philharmonic
- The "Ion Dumitrescu" Philharmonic of Rmnicu Vlcea
- The Ethnographic Transilvania Museum of Transylvania from Cluj
- The Popular Athenaeum"Maior Gheorghe Pastia" of Focani
- Brans City Hall
- The County Directorate for Culture Slaj
- The Klnoky Foundation

Translated by Țîru Mălina Roxana,
University of Bucharest, Faculty of Foreign Languages and Literatures, MTTLC, year II
Corrected by Silvia Petrescu