> [Archived] Events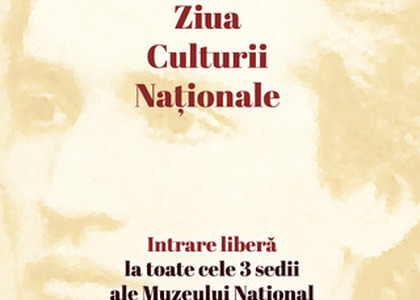 National Culture Day - The 15th of January
Monday, 18 January 2021 , ora 9.06

For the celebration of the National Culture Day, the National Museum "George Enescu" will broadcast a film made in partnership with PerArt Productions SRL and the Musica Viva Ensemble. Entitled Miraculous Romania, the film unfolds poetic and musical moments framed between the two great creators, Mihai Eminescu and George Enescu. The music, through the selected fragments, will support the ethos of those poems.
The publication of the film is scheduled for Friday, January 15th, 2021, on the museum's website, facebook , YouTube. The film Miraculous Romania will remain accessible on January 16th, 2021.
Also, on January 15th, 2021, the entry is free at all 3 museum offices - Bucharest, Sinaia and Tescani (Bacău).

Translated by Dărăban Denisa,
University of Bucharest, Faculty of Foreign Languages and Literatures, MTTLC, year I
Corrected by Silvia Petrescu