> [Archived] Events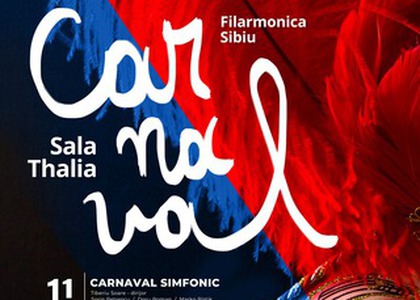 Masks are mandatory for the 2nd edition of the Philharmonic Carnival!
Monday, 18 January 2021 , ora 9.13

In February 2020, we were the first to suggest wearing a mask, at the first edition of the Philharmonic Carnival, and its success exceeded our expectations. All year long masks were worn.
This year the Philharmonic Carnival honours the efforts of several Romanian cultural institutions: Sibiu Philharmonic, Brașov Philharmonic, Romanian National Opera of Cluj-Napoca, "Banatul" Philharmonic of Timișoara, Icon Arts Academy,UCIMR and the Ballet Theatre Sibiu.
For the four days of Carnival we will be able to watch conductor Tiberiu Soare, pianist Sorin Petrescu, percussionist Doru Roman and accordion player Marko Ristik, and these are just some of the special guests included at the second edition of the Philharmonic Carnival. The "La Bohème" opera in concert version, by Giacomo Puccini, will be presented in a spectacular coproduction: National Philharmonic of Sibiu, Brasov Philharmonic, National Opera of Cluj, while the Hara band will invite us to a dance of hora, in a concert put together exclusively for this event.
Following all health regulations in effect at that date, the whole Thalia complex will be brought to life through masks, music, dance and, of course, the audience's costumes.
We won't forget about the day of love either on February 14th, when we will play romance and tango songs. For the most ardent lovers of Philharmonic we have many surprises… we will award - just like last year- the most beautiful mask from the audience. Therefore, we invite you to be as creative as possible.
Thursday, February 11th, 7 PM
National Philharmonic Orchestra of Sibiu
Conductor Tiberiu Soare
Soloists: pianist Sorin Petrescu, percussionist Doru Roman and accordionist Marko Ristik
Friday, February 12th, 7 PM
La Bohème opera by Giacomo Puccini
Brașov Philharmonic and the Romanian National Opera of Cluj
Saturday, February 13th, 7 PM
Hara concert
Sunday, February 14th, 7 PM
The Marko Ristik Trio - accordion

Translated by Zofotă Andreea,
University of Bucharest, Faculty of Foreign Languages and Literatures, MTTLC, year I
Corrected by Silvia Petrescu