> [Archived] Events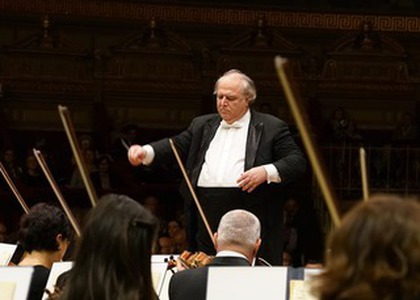 Remember Camil Marinescu. Bach, Dediu and Schubert during the online season of the "George Enescu" Philharmonic
Thursday, 28 January 2021 , ora 15.56

Thursday, January 28th,at 19.00 o'clock, during the online season of the "George Enescu" Philharmonic, there will air a 2018 recording of the symphonic Orchestra, led by the late conductor Camil Marinescu, where they interpreted Johann Sebastian Bach's Concerto for Flute, Violin and String Orchestra and Dan Dediu's Plastic-Rock Concerto. Flutist Ion Bogdan Ștefănescu and violinist Gabriel Voicu were the soloists for both of the pieces. During the second part of the event, the ensemble presented Symphony no. 9 by Franz Schubert.
Dan Dediu says about his piece that it is a double concerto which starts from the idea of transferring some of the traits found in rock music into the domain of symphonic concert music. "Plastic-Rock Concerto is a piece I've written in 2006, at the request of Ion-BogdanȘtefănescu - who is going to play it again this week at the Athenaeum - not only for flute, but for violin also. My bet was to use a more or less extended string orchestra, with two soloists - flute and violin - whose goal was to stylize rock music in a more special way. This meant that I had to think a lot about organizing the high tones, about organizing the discourse in a rhythmic way, and I hope I managed to achieve something plastic-like (because rock means stone). What I created is a kind of plastic rock, which is why I called it Plastic-Rock Concerto. Therefore, stylizing rock music within concert music of symphonic tradition", explained Dan Dediu.
ONLINE SEASON
Thursday, January 28th, 19.00 o'clock, Sala Mare of the Romanian Athenaeum, Symphonic Orchestra of the "George Enescu" Philharmonic
Conductor CAMIL MARINESCU
Soloists ION BOGDAN ȘTEFĂNESCU - flute
GABRIEL VOICU - violin
Concertmaster guest RADU DUNCA
Program:
Johann Sebastian Bach - Concerto for Flute, Violin and String Orchestra after the Concerto for two violins in D minor, BMW 1043
Dan Dediu- Concert for Flute, Violin and String Orchestra Plastic-Rock Concerto
Franz Schubert -Symphony no. 9 in C major, D 944
You can listen to the recording of the concert from the 1st of March 2018 on the online channels of the "George Enescu" Philharmonic: site, Facebook page and YouTube channel.
Radio RomâniaMuzical is the media partner of the event.
The concert will also air on Thursday night on the Facebook Page of Radio RomâniaMuzical.
Camil Marinescu passed away on July 27th 2020, he was the principal conductor of the "George Enescu" Philharmonic in 2012-2019. He studied at the National University of Music Bucharest, in the bassoon class. When it comes to conducting, he was the disciple of maestros ConstantinBugeanu, CristianMandeal, MihaiBrediceanuand Pierre Dervaux. He taught bassoon at the National University of Music Bucharest and, for 10 years, he was resident conductor at the National Opera House of Bucharest. From 2003 he was the permanent guest conductor of the Berliner SinfonieOrchester in Germany for three seasons. From 2002, CamilMarinescu was a resident in Japan, his international activity enjoying great success in numerous tours in the USA, Canada, France, Austria, Spain, Italy, Mexico, Switzerland, Russia, Australia, China, Great Britain, Israel. Conducting both the lyrical theatre repertoire and the symphonic repertoire, he was invited to conduct the Minneapolis Opera House in Minnesota (USA), the OSM Orchestra in Montreal, Westdeutscher Rundfunk - Köln, Komische Oper in Berlin, Mitteldeutscher Rundfunk in Leipzig.Together with some of these ensembles he recorded important pieces: complete symphonic works by George Enescu, pieces by Janacek, Stravinski, Bruckner, Mozart, Schubert, Beethoven, Debussy, Richard Strauss and Ravel. In Japan he was present on stages from Tokyo, Kyoto and Osaka. With a great diversity in approaching the repertoire - from Gesualdo da Venosa to pieces by Puccini and Richard Strauss, to contemporary symphonic music, to film music and jazz - the conductor included in his concerts Romanian music, contributing to the showcasing of our music everywhere in the world. CamilMarinescu also had a great pedagogic activity, which includes courses for conducting at the Osaka University and aesthetics and culture philosophy courses at the Kyoto University. He also held conferences about musical analysis and musical interpretation themes at universities in France, Spain, Portugal, Germany and USA.

Ion Bogdan Ștefănescu, born in 1969, graduated from the National University of Music Bucharest in 1993, in the class of professor Virgil Frâncu. He specialized with Alain Marion (Nissa - 1990); Pierre-Yves Artaud (Darmstadt - 1990); Wolfgang Schultz (München - 1992); James Galway (Veggis - 1995; Regio Emilia - 2003) and he was awarded the title of Master of Music in 1995, at the University of Illinois at Urbana-Champaign (USA), his professor being the English flutist Alexander Murray. In 2002 he got his PhD in music at the National University of Music Bucharest. From his soloist debut in 1983 until the present day, Ion Bogdan Ștefănescu had a great concert activity, evolving in concerts and recitals in England, France, Spain, Czechoslovakia, North Korea, Germany, Holland, Japan, USA. He was awarded First Prize at the Contest "Concertino" (Prague, 1986) and Honorary Prize at the Contest "G. B. Viotii" (Vercelii, Italy, 1984). He has the award "CellaDelavrancea" for Culture Merits (1991), the Club Liones Prize for Best Performances in James Galway Seminar, Italy (2003), the Medal of Cultural Merit (2004), UCMR Prize for soloist interpretation (2007). He is a founding member of the ensembles "ProContemporania", "Profil" and he is a member of the Trio "Contraste"; he has done plenty of radio, TV, CD and DVD recordings in Romania, Germany and Switzerland. His biography is included in the 1998 edition of Men of Achievement and 1998 edition of Five Thousand Personalities of the World. He has composed music for performances produced by SRR, as well as Pianissimo Summer Dream for the percussion ensemble, the first audition taking place at the Lausanne Conservatory. He is the author of the opera librettos Blue Night (music by Diana Rotaru) and WafterDer Schauspieldirektor (The Impresario) by W. A. Mozart and he published the volumes Game of Mirrors, The Ages of Flute and Of Stones and Birds. From 1997 until the present day he has been first flutist in the Orchestra of the "George Enescu" Philharmonic from Bucharest. Ion BogdanȘtefănescu plays on a Muramatsu flute.

Gabriel Voicu was born in Bucharest and he received his first musical guidance from his father, prof. dr. EmilianVoicu, who would also be his accompanist. During his studies at the Musical High School "George Enescu" his teacher was Octavian Rațiu. In 1981 his family emigrates to Germany, and Gabriel Voicu becomes the disciple of professor W. Marschner. From 1987 he studies with E. Peinemann at the Frankfurt Conservatory. That same year, Gabriel Voicu beings his conducting studies with professor J. Starek and takes part in the maestro courses of SergiuCelibidache. He refines himself in the domain of chamber music at the Stuttgart Conservatory, with Melos Quartett, and he participates to different maestro courses with Sir Yehudi Menuhin, YairKless, Pinchas Zukerman. From 1991 he is invited to numerous festivals in USA. As a soloist, conductor, partner of chamber music and concertmaster, Gabriel Voicu collaborated with James Conlon, Dimitrij Kitajenko, Raphael de Burgos, Markus Stenz, Leif Segerstam, AndreyBoreyko, ChristophEschenbach, Walter Weller, Michael Sangerling, IgorOistrah. He performed in USA with the Orchestra of Chautauqua Festival under the baton of Joseph Silverstein and he gave 96 recitals in Japan. He toured in Europe with the "CamerataStrad" Orchestra, which Gabriel Voicu founded and led as conductor and artistic director. Also, Gabriel Voicu is the initiator of the Ellwangen Castle Chamber Music Festival, Germany, and in 2006 he became adjunct director of the Hamburg Philharmonic. He had the chance to collaborate with Zubin Mehta in 2013 during rehearsals and concerts at Münchner Philharmoniker, Bayerische Staatsoper and Symphonieorchester des Bayerischen Rundfunks in München, and in 2014 in Berlin with Berliner Philharmoniker and Staatsoper Berlin with Daniel Barenboim as a soloist. Also in Berlin he was Sir Simon Rattle's assistant. Gabriel Voicu plays on a 1725 A. Stradivarius violin.
***
Find us on channels:
"George Enescu" Philharmonic Website
"George Enescu" Philharmonic YouTube Channel

Translated by Teliban Cătălina-Diana,
University of Bucharest, Faculty of Foreign Languages and Literatures, MTTLC, Year II
Corrected by Silvia Petrescu