> [Archived] Events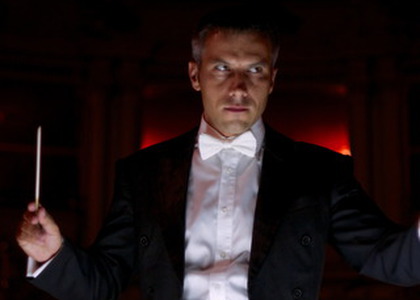 First LIVE concert at Sala Radio in 2021: MOZART conducted by Tiberiu Soare
Thursday, 28 January 2021 , ora 15.59

After a "silence" over Sala Radio due to pandemic, music returns to the Bucharest stage in 2021, in the first live concert (LIVE) - without an audience in the hall.
Wednesday, January 27th (7.00 P.M.), the acclaimed conductor TIBERIU SOARE will conduct RADIO CHAMBER ORCHESTRA, in a concert dedicated entirely to Mozart, celebrated on the day of the concert. Mozart was born 265 years ago, on January 27th. His first creations date back to the age of 5 and, in only 35 years, brilliant Amadeus composed over 600 works in almost all musical genres of the time, including 27 piano concertos!
Countless memorable words have been written about him. Schumann said, "There are things in the world which nothing can be said about, such as Mozart's Symphony No. 41, Shakespeare, or pages by Beethoven". Tchaikovsky considered him a "Christ of music," and the acclaimed conductor Georg Solti confessed, "Mozart makes you believe in God, because it is not possible for such a phenomenon to come into the world and leave behind such numerous masterpieces."
LIVE on the stage of Sala Radio you will listen to Symphony no. 35 - Haffner (composed on the occasion of ennobling of a Haffner family member in Salzburg) and Concerto no. 12, in the solo interpretation of pianist HORIA MIHAIL.
The event can be listened on all frequencies of Radio România Cultural and Radio România Muzical and live streamed on the Internet, at www.radioromaniacultural.roandwww.romania-muzical.ro. The concert will also be live streamed on the official Facebook page of Radio Orchestras and Choirs and on Radio România Muzical page.

Conductor of the Bucharest National Opera and principal conductor of the Sibiu Philharmonic,TIBERIU SOARE has been carrying out his artistic activity since 1999. Between 2012-2015, Tiberiu Soare was the principal conductor of the Radio Romania Orchestras and Choirs, having numerous successes with these ensembles both on the stage of Casa Radio and in outdoor events or international tours.
In September 2010, Tiberiu Soare was invited to conduct his first concert at London Philharmonic Orchestra, together with the famous soprano Angela Gheorghiu. Other important concerts followed, conducted on world major stages, together with Angela Gheorghiu: 2013 -Royal Festival Hal lin London, with Royal Philharmonic Orchestra, Prague (Smetana Hall), Munich (Munich Philharmonic) and Paris (Royal Opera - Palace of Versailles). In 2014, in Germany, he conducted Hof Symphoniker Orchester in an opera gala, at an annual festival - Schlossfestspiele (Castle Festival), followed in the same year by concerts at the Théâtre des Champs-Elysées - Paris, Musikverein Graz - Austria, Concertgebouw Hall - Amsterdam and Baden-Baden (Festspielhaus) - Germany.
After completing 14 years study in Romania, the pianist HORIA MIHAIL attended the University of Illinois. He graduated MA in 1995. He was a university lecturer at Boston University. Horia Mihail returned to Brașov in the fall of 2002, as a soloist with the Philharmonic. Apart from the Romanian stages, the musician performed in Berlin, Prague, Munich, Paris, Lisbon, London, etc. Horia Mihail is a soloist of the Radio Orchestras and Choirs and a cultural advisor of the Brașov City Hall.

For more information on Radio Orchestras and Choirs please visitwww.orchestreradio.ro

Translated by Anca Ilie,
University of Bucharest, Faculty of Foreign Languages and Literatures, MTTLC, year 1
Corrected by Silvia Petrescu