> [Archived] Events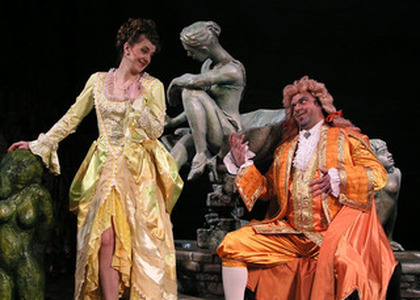 Extraordinary vocal-symphonic concert at the Mozart festival 2021
Monday, 8 February 2021 , ora 10.11

The sixth edition of Mozart festival schedules on Saturday, February 6th 2021, starting with 6:30 p.m., an extraordinary vocal-symphonic concert, dedicated to the genius of universal music. In the program, you will be able to hear to important works from Mozart's creation, "Concert symphony for violin, fiddle and orchestra in E flat major, K. 364", soloists: Adrian Pipaș-violin and Gabor Előd-fiddle and the Motet "Exsultate, jubilate K. 165",having the soprona Aurelia Florian as soloist. The Brașov Opera Orchestra is competing, at the rostrum of which will be the maestro conductor Traian Ichim. Stage director: Marilena Aldea.
"Concert Symphony in E flat major for violin, fiddle and orchestra, K. 364" was composed in 1779, during a European tour that included Mannheim and Paris. Mozart excelled in this genre at the crossroads of symphony and concerto, and this work can be considered his most successful achievement, and can be taken as a model. Part 1, "Allegro maestoso", is distinguished by the scale of the developments and the balanced presentation of the soloists in the general instrumental context. the finale, "Presto", is characterized by agility and expansiveness ", says the music critic Petre Codreanu.
"Exsultate, jubilate K. 165" was composed by Mozart in 1773, in Milan, where it was for the premiere of the opera "Lucio Silla". The work has a religious character, that is why it is found in a liturgical setting, but the motet has many features in common with the composer's concert areas, as are those extracted from his works. Mozart also used concert elements in this work. The parts of this motet are: "Exsultate jubilate" - Allegro, "Fulget amica dies" - Secco Recitative, "Tu virginum corona" - Andante, "Alleluja" - Molto allegro.
The show will be broadcast online, live on the Facebook page of Brasov Opera and on the official Youtube channel https://www.youtube.com/watch?v=vhDcD1OUyRo&feature=youtu.be and it can be watched for free!

Translated by Călinescu Emilia-Georgiana,
University of Bucharest, Faculty of Foreign Languages and Literatures, MTTLC, year I
Corrected by Silvia Petrescu