> [Archived] Events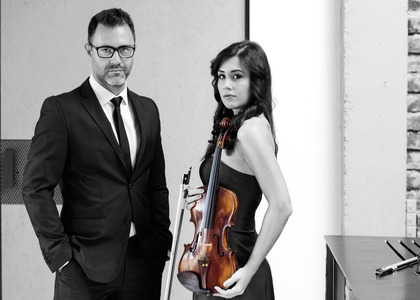 THE SOUND OF FORMS. Online chamber recital dedicated to Brâncusi Day
Thursday, 18 February 2021 , ora 15.10

The violinist Diana Jipa and the pianist Ștefan Doniga will launch an original music production online, meant to pay homage to the personality of the great Romanian plastic artist. It will come out on Friday, the 19th of February 2021, at 6 P.M., on the occasion of the 145th anniversary of Constantin Brâncuși birthday. Thus, the two musicians came up with the concept of "virtual recital", called the "SOUND OF FORMS" to make up for the absence of live music from the concert hall.This provides, on the one hand,an adapted artistic experience to the current social limitations but, at the same time, it is adapted to the latest technical availability. Through online communication, the idea involves a musical development similar to a chamber recital. It also doubles the listener's experience with that of the viewer, presenting performers in a wide variety of frames and accompanied by spectacular images.
The event is made up of a series of 8 exposed videos that were created to high artistic and technical standards, with a repertoire structured according to the usual program of a chamber recital. It also has a close connection with Brâncuși's personality. The modernity of the great sculptor's creation is thus reflected not only in the project concept or in the contemporary sound language, but especially in the theme of the presented pieces, some of them being inspired by his works: "Princess X" or "The Blonde Negress"for solo violin. These are just a few of the musical pages presented in the program, signed by Adrian Iorgulescu, Ulpiu Vlad, Felicia Donceanu, Roman Vlad, Remus Georgescu, Violeta Dinescu and Vlad Baciu.
The filming of these videos took place exclusively in museums and historical buildings from Romania.The frames taken with the two musicians performing were from the Transylvania Hall in Zalău, the Ethnographic Museum of Transylvania in Cluj, the Art Museum in Constanța, the "Ion Dumintrescu" Philharmonic and the Collection of contemporary art "Nicolae Sofianu" from Rm. Vâlcea and the National Museum "George Enescu" from Bucharest.
The event is supported by the Romanian Cultural Institute, Radio România Muzical channel, the Union of Romanian Composers and Musicologists and the George Enescu National Museum in Bucharest.

Translated by Ioana Oacheșu,
University of Bucharest, Faculty of Foreign Languages and Literatures, MTTLC, year I
Corrected by Silvia Petrescu