> [Archived] Events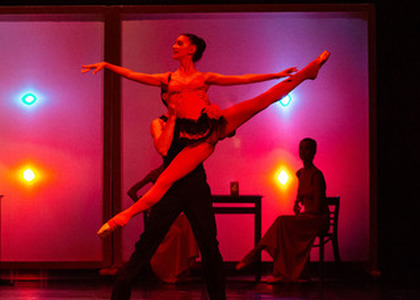 'L'heured'or de Paris' and 'The Magic Flute', at the 'Oleg Danovski'Opera and Ballet National Theatre
Friday, 19 February 2021 , ora 15.18

This weekend, the "Oleg Danovski" Opera and Ballet National Theatre is presenting two very special cultural events: "L'heured'or de Paris" and "The Magic Flute" by W.A. Mozart. We are eagerly waiting for you!
Saturday, February 20th 2021, at 19:00 o'clock - L'HEURE D'OR DE PARIS
Choreography, direction and scenography: HORAȚIU CHERECHEȘ
Music: collage of works by the great classics and chansonette
Orchestration: LUCIAN VLĂDESCU
Choreography assistant: MONICA CHERECHEȘ
Soloists: ALINA MAVRODIN, DANIELA VLĂDESCU, MARIUS EFTIMIE
Ballet soloists: IRINA MIHAIU, ADRIAN MIHAIU, BOGDAN BÎRSĂNESCU, MIHAI PÎSLARU, CĂTĂLINA ILIESCU, RYAN BROWN, DIANA PORFIREANU, OANA DINCĂ, MIZUKI KUBOTA

Sunday, February 21st 2021, at 19:00 o'clock-THE MAGIC FLUTE W.A. Mozart
Artistic direction: ȘTEFAN MUNTEANU
Scenography and costumes: ADRIANA URMUZESCU
Soloists: DORU IFTENE, MARIUS EFTIMIE, LAURA EFTIMIE, GEORGIANA MEDELEANU, CONSTANTIN ACSINTE, SILVIA SIMIONESCU, MIHAELA IONESCU, STELA SÎRBU, LUCIA MIHALACHE, MARIA CERNAT, MAGDA MARCU, GABRIELA DOBRE, ANTON ZIDARU Bucharest, IULIA STĂNEI, CĂTĂLINA POSTOLACHE, ELENA PĂUNESCU, LAURENȚIU SEVERIN, BOGDAN OCHEȘEL, ADRIAN BĂDILĂ, MĂDĂLIN BĂLDĂU, CRISTIAN PARMAC, PETRE BULGARU
Conductor RADU CIOREI
Choir maestro ADRIAN STANACHE
The rules and information for the audience relating to COVID-19 are available at www.tnobconstanta.ro/bilete.

Translated by Teliban Cătălina-Diana,
University of Bucharest, Faculty of Foreign Languages and Literatures, MTTLC, Year II
Corrected by Silvia Petrescu