> [Archived] Events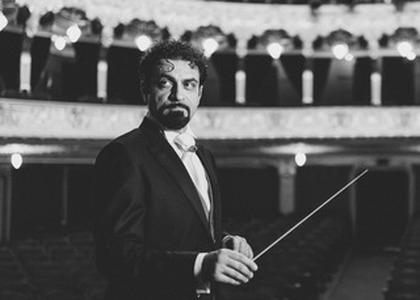 "Carmen" by Bizet, with conductor Marius Hristescu, at the "Oltenia"Philharmonic , Craiova
Thursday, 25 February 2021 , ora 14.51

Friday, 26th of February 2021, 07:00 pm, the Symphonic Orchestra of the "Oltenia" Philharmonic
"CARMEN" BY BIZET
CONDUCTOR
MARIUS HRISTESCU
SOLOIST
OCTAVIAN GORUN
Violin
On schedule:
Georges Bizet:"L'Arlésienne"(suites1 and 2)
Camille Saint-Saens: Danse Macabre for violin and orchestra
Georges Bizet:"Carmen"(suites 1 and 2)
Friday, 26th of February 2021, 07:00 pm, at the "Oltenia" Philharmonic from Craiova takes place a symphonic concert with romantic French music, under the baton of maestro MARIUS HRISTESCU, conductor of the "Oltenia" Philharmonic from Craiova. The evening will open with "L'Arlésienne" by Bizet and will continue with "Danse Macabre" by Saint-Saens, performed solo by violinist OCTAVIAN GORUN, concertmaster of the Opera from Craiova. The end of the concert is reserved to the suites 1 and 2 of the great opera "Carmen" by Bizet.
A frequent guest of the philharmonics and of the Opera Houses from the country, the conductor MARIUS HRISTESCU has had concerts and shows along artists like: Ion Ivan-Roncea, Bogdan Ștefănescu, Cosmin Marcovici, Sorin Drăniceanu, Yuri Tsiple, Alexandra Coman, Felicia Filip, Daniela Vlădescu, Vlad Stănculeasa, Bogdan Zvorișteanu, Liviu Prunaru, Mirabela Dina, Hector Prieto-Sanchez, IoanaLupașcu, Maria Solozobova, Cristian Florea.
After gaining a reputation as a composer and as an orchestrator, important artist of the moment from the Romanian and the International Music Industry have asked for his collaboration: Felicia Filip, Nicu Covaci (Pheonix), Loredana Groza, Florin Piersic, Radu Fornea (K1), Ștefan Banică jr., Linda, Paula Seling and the British band, Smokie. Also, his two symphonic projects realized together with baritone Daniel Prunaru ( on the stage of the opera houses from Craiova and from Cluj-Napoca) have enjoyed a real success and materialized in two CDs. In 2016, he realized together with the band Concertino Accordion from Chișinău, the adaptation and the re-orchestration of the great opera "Carmen" by Bizet, also, assuring the musical direction of the show inspired by this opera, and which was called "Carmen - Rock Version".
The concert will be presented to the public in the hall, with the limitation of the seat to maximum 120 persons and in compliance with the heath security measures: the access of the music lovers to the hall on separate entry-exit ways, temperature measurement, hands disinfection, the wearing of the protection mask and a distance of minimum 2 meters between the spectators.

Translated by Mihai Petre,
University of Bucharest, Faculty of Foreign Languages and Literatures, MTTLC, year I
Corrected by Silvia Petrescu