> [Archived] Events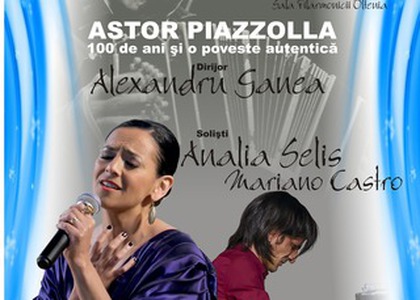 Astor Piazzolla - 100 years and an authentic story, at the 'Oltenia' Philharmonic Craiova
Wednesday, 3 March 2021 , ora 15.42

The concert on Friday, March 5th, 2021, at 19:00, from the "Oltenia" Craiova Philharmonic is part of the "Symphonic Piazzolla" project launched this year by the Argentine artist ANALIA SELIS. "Symphonic Piazzolla" celebrates the centenary of Astor Piazzolla's birth and reveals to the public an unknown facet of the tango master, interpreting his music in the most authentic way. On Friday evening, together with ANALIA SELIS, will be the Argentine pianist MARIANO CASTRO and the Chamber Orchestra of the "Oltenia" Craiova Philharmonic, under the baton of conductor ALEXANDRU GANEA.

ALEXANDRU GANEA collaborated with important names of Romanian musical life: pianists Valentin Gheorghiu, Viniciu Moroianu, Vlad Dimulescu, Csiky Boldizsar, Horia Mihail, Horia Maxim, Răzvan Dragnea, Matei Varga, violinists Alexandru Tomescu, Gabriel Croitoru, Florin Croitoru, Cristina An Florin Paul, Cornelia Bronzetti, Bogdan Zvorișteanu, Alexandra Conunova, Antal Zalai, cellists Marin Cazacu, Răzvan Suma, Alexandru Moroșanu, Ștefan Cazacu, harpist Ion Ivan Roncea, clarinetists Dan Avramovici, Emil Vișenescu, flutist Cătălin trârstul Petrietea Goose, sopranos Felicia Filip, Valentina Naforniță, Bianca Manoleanu.
In 2013, Alexandru Ganea appears in the Encyclopedia of Romanian Personalities "Who is Who" and in 2014, at Glissando Publishing House, the volume Alexandru Ganea appears - "Conductor-stylistic landmarks of programming". In 2015, Eurostar Records released the CD Enescu, Lipatti, Silvestri - starring members of the UNMB "Universitaria" Orchestra and conductor Alexandru Ganea. He was invited as a conductor to the "Violin Queen" International Festival (2010, 2011, 2013) and was part of the jury of the "Cornelia Bronzetti" International Violin Competition (2008, 2010, 2012, 2014, 2016).

ANALIA SELIS was born in Tucumán, Argentina, in 1977. In 2004, she won the third prize of the International Festival "Golden Stag" (Brașov, Romania), where she represented Argentina. In 2014, he started singing tango, conducting the national tournament Do you like Tango? together with the famous cellist Răzvan Suma and the Argentine guitarist Julio Santillán. Between 2015 and 2019, he launched three major successful projects: Tango Simfonic (first edition), Tango Simfonic "Milonga de mis amores" (second edition) and ArgEnTango. During this time he collaborated with all orchestras in Romania and with large orchestras in Switzerland (Biel Solothurn Symphony Orchestra), Czech Republic (Hradec Králové Philharmonic Orchestra), Lithuania (Klaipėda Symphony Orchestra), Argentina (National University of Tucumán Symphony Orchestra), under the baton. great conductors such as József Horváth, Tiberiu Soare, Radu Popa, Cristian Oroșanu, Kaspar Zehnder and others.
He also played with great musicians, such as Omar Massa (bandoneon), Julián Caeiro (piano), Mariano Castro (piano), Rafael Butaru (violin). She was also invited to sing with various ensembles, Kamerata Kronstadt, Gaudeamus Quartet, Contempo Quartet, as well as at important music festivals: "George Enescu" International Festival (Romania), Radio Song Festival (Beijing, China), Kammermusiktage Barth Festival (Germany), Das Einzigartige Crossover Festival (Switzerland), Klaipėda International Cello Festival and Competition (Lithuania). Currently, he continues to promote traditional Argentine tango and the music of Astor Piazzolla, both in Romania and in Europe.
Complex musician, pianist, guitarist, composer, orchestrator, soloist or member in various bands, MARIANO JOSÉ CASTRO, Argentine from Buenos Aires, has settled in Romania since 2013. He brought with him his vast musical culture, a world-renowned status and a great joy of singing. In his career as a pianist or guitarist, he approaches different musical styles, singing with tango, jazz, rock and classical music, and as a soloist. He is active in over 30 international tournaments in various cities in the United States, Canada, Brazil, Ecuador, Italy, Switzerland, Germany, Romania, France, Russia, Portugal, Poland, Spain, Denmark, Bulgaria, the Netherlands, the Czech Republic and Lithuania.
From 2008 until 2016, when the project closes, he is part of the Narcotango group, which creates a fusion between tango, jazz and electronic music. Along with Narcotango, Mariano Castro in triple quality - performer, composer and orchestrator - was nominated twice at the Latin Grammy Awards (2009 and 2010) in the category "Best Tango Album". With this band, but also as a pianist and solo guitarist, he is active in international tours in Europe, the United States, Canada and Latin America. In December 2013, the Congress of Buenos Aires declared Mariano Castro, together with the other members of the band Narcotango, a prominent figure in the culture of Buenos Aires for his entire artistic career and for his artistic contribution in promoting Argentine culture.
The concert will take place with the public in the hall, with the limitation of seats to a maximum of 120 people and compliance with medical safety measures: music lovers' access on separate input-output circuits, temperature measurement, hand disinfection, wearing a face mask, physical distance of at least 2 meters between spectators.
Ticket prices: 40 ron; 10 ron (pupils, students, seniors)
Ticket agency, Calea Unirii, no. 16
Phone: 0251.414.698
Schedule: Monday-Friday; 10: 00-18: 00

Translated by Alma Teodora Miron,
University of Bucharest, Faculty of Foreign Languages and Literatures, MTTLC, year I
Corrected by Silvia Petrescu