> [Archived] Events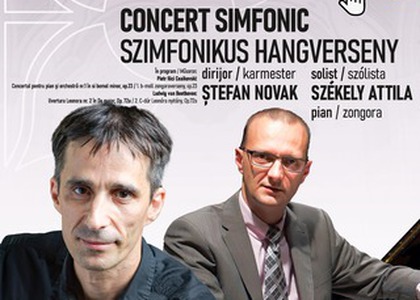 Online Symphony Concert - April 9, 2021 - State Philharmonic 'Dinu Lipatti' Satu Mare
Wednesday, 7 April 2021 , ora 17.00

ȘTEFAN NOVAK - conductor
The conductor of the week is Ștefan Novak, the permanent conductor of the State Philharmonic "Dinu Lipatti" Satu Mare.
His conducting activity includes concerts, performances and recordings with orchestras from Romania, Hungary, the Czech Republic, Bulgaria and South Korea. In addition to conducting, he is concerned with research, care, editing and promotion of various compositions, especially Romanian.

SZEKELY ATTILA - pianist
The soloist of the week is the pianist Székely Attila.
He is currently lives in Berlin, working as a professor at the Künstedin Berlin Academy (ASK). He is the artistic director of the Hamelin Theater and also specialized in chamber music and accompaniment. His work as a chamber musician is remarkable, recording since 2007 with the American violinist Artur Kaganovskiy at Centaur Label Inc. from the USA.

Translated by Călinescu Emilia-Georgiana,
University of Bucharest, Faculty of Foreign Languages and Literatures, MTTLC, year I
Corrected by Silvia Petrescu