> [Archived] Events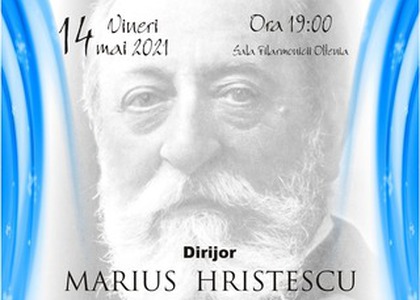 French music with Marius Hristescu at the desk of the Craiova symphony
Thursday, 13 May 2021 , ora 14.55

Friday, on the 14th of May 2021, from 7PM, The Symphony Orchestra of the "Oltenia" Craiova Philharmonic will perform music of French refinement under the baton of conductor Marius Hristescu: Camille Saint-Saëns: Bacchanale from Samson and Delilah, Gabriel Fauré: the Pelléas and Mélisande Symphony Suite, Op. 80 (selections), Camille Saint-Saëns: Symphony no. 3 in C minor, Op. 78.

Marius Hristescu was born on September 29, 1975 in Craiova. He graduated from the Arts High School in his hometown (1994), enjoying the guidance of professors Mariana Ilie (piano), Florian-George Zamfir (music theory) and Alexandru Racu (accompaniment). He continued his musical education at the University of Music Bucharest, where he studied three specializations simultaneously: Composition, Choir conducting and Orchestra conducting, being a disciple of maestros Ștefan Niculescu (composition), Dan Buciu (harmony), Dinu Ciocan (counterpoint), Valentin Gruescu (choir conducting), Ludovic Bács and Petru Andriesei (orchestra conducting). In 2000 he graduated with a master's degree - Style and Compositional Language in the Ștefan Niculescu class. His first stage appearances as a conductor are related to the concerts performed by the Carmina Nova Choir in Craiova, founded by Florian-George Zamfir. In 1997 he received the Debut Award within the Festival of Young Choir Conductors in Craiova (the 5th edition), in 2002 he got a scholarship at Accademia Marciana in Venice and in 2005, in Rome. In 2004 he participated in a masterclass on the art of conducting taught by Kurt Masur, organized by the Eurosilesia Foundation in Wroclaw (Poland), and from 2008 he started attending the series of courses on the art of conducting and musical phenomenology taught by Konrad von Abel, renowned disciple of Sergiu Celibidache.

Samson and Delilah by Camille Saint-Saëns has become famous over time thanks to Delilah's exquisite arias: "My heart opens itself to your voice", "Spring begins" and "Love, come help my weakness", but also thanks to the orgiastic Bacchanale, one of the most spectacular pieces of the composer's creation.

Saint-Saëns's most important work in the symphony field is undoubtedly Symphony no. 3 in C minor, well known as The Organ Symphony. Dedicated to Liszt, whose strong personality dominated the musical life of those times, the work had its first audition in London, in 1885.
Gabriel Fauré approached the theme from Maurice Maeterlinck's masterpiece "Pelléas and Mélisande", in response to a request from actress Patrick Campbell. The artist was truly delighted by Fauré's refined music, "who, with the most tender inspiration captured the poetic purity that pervades and wraps the text of Maeterlinck's adorable piece".

The event will take place with the presence of the public, with the limitation of seats to a maximum of 50% of the capacity of the concert hall and compliance with medical safety measures: the access of the music lovers on separate entry-exit circuits, temperature measurement, hand disinfection and wearing a face mask.
Ticket prices: 40 lei; 10 lei (pupils, students, seniors)
Ticket Agency, Calea Unirii, no. 16
Telephone: 0251.414.698
Program: Monday-Friday between 10AM-6PM

Translated by Lica Alexandra,
University of Bucharest, Faculty of Foreign Languages and Literatures, MTTLC, year I
Corrected by Silvia Petrescu