> [Archived] Events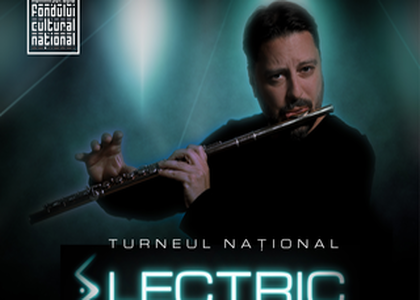 ELECTRIC National Tour
Thursday, 21 October 2021 , ora 15.49

ELECTRIC - an electrifying performance by flutist Matei Ioachimescu, (composer Cristian Lolea and multimedia artist Tom Brânduș). A world premiere in 8 cities in Romania, from October 30th to November 13th.
Matei Ioachimescu returns to Romania with the ELECTRIC project, accompanied this time by electronic audio-visual media, in a show that is both captivating and moving. He will give life to a fantastic sound universe, imagined by the award-winning composer Cristian Lolea, a universe at the junction between film music, contemporary classical music and entertainment music. Cristian Lolea's music will take on visual values through the live light and laser show created by Tom Brânduș, one of the most renowned and innovative multimedia artists in Romania. Renowned costume artist Patricia Vincent will complete the ELECTRIC experience with costumes specially created for this show that promises to go beyond the usual concert, creating intense aural and visual emotions.
Matei Ioachimescu said, "I am delighted to collaborate with some of the most revered representatives of the musical, visual and clothing arts in Romania. The artistic composition resulting from the creativity and energy with which each contributed to the ELECTRIC show is a high class cultural product that we hope will be a reference in the national artistic landscape."

Turneul național ELECTRIC:
30.10 Brașov, Patria Hall
31.10 Mediaș, Traube Hall
2.11 Sibiu, GONG Theatre
4.11 Bistrița, Palace of Culture
6.11 Cluj-Napoca, Academic College
8.11 Timișoara, Capitol Hall
11.11 Deva, CulturalCentre "Drăgan Muntean"
13.11 București, Radio Hall

Organizer: Hațegan Foundation

Proiect cofounded by TheNational Cultural Fund Administration

Main partners: Radio Romania, Brașov Philharmonic, GONG Theatre Sibiu, St. Margareta Evangelical Church Mediaș, Bistrița Concert Society, "Transilvania" State Philharmonic Cluj-Napoca, "Banatul" Philharmonic Timișoara, "Drăgan Muntean" Cultural Centre.

About the artists:

MATEI IOACHIMESCU
The flutist Matei Ioachimescu has an impressive concert activity, he is known for his performances of baroque and modern repertoire, but also for cross-over recitals. He is a graduate of the University of Music in Vienna, where he has settled, is the recipient of several awards and scholarships (Thyll-Dürr or Yehudi Menuhin Foundation) and collaborates with some of the most interesting musicians in Europe, on important stages such as Konzerthaus Wien, Ateneul Român, Conservatorio Santa Cecilia, Budapest Music Center or Suntory Hall.
His debut album with pianist Cătălina Butcaru, entitled "Lumiere", is considered by critics to be a reference product for these two instruments. As a soloist he performs both classical concerts and premieres of contemporary composers with philharmonic orchestras from home and abroad. He is known for his national and European tours: Legends, Romanian Rhapsody and La Vida Loca - the internationally successful project on stages in Romania, Austria, Poland and Estonia, which brought in March 2019 the album of the same name released under the ViennArt label. For his intensive work and the high quality of his projects, he was entrusted with the title of "Ambassador of Integration" in 2013 by the Austrian Foreign Ministry. He is invited as a jury member in international competitions and gives workshops in Austria, Japan, Hungary, Romania and Croatia.
Since 2020, Matei Ioachimescu is associate professor at the Faculty of Music and Theatre, West University of Timisoara.

CRISTIAN LOLEA
Cristian Lolea is one of those composers who manage to approach successfully and in an original way musical areas of very different styles, from avant-garde music to pop-rock.
For his film music, Cristian Lolea was awarded the "Georges Delerue" Prize at the Ghent International Film Festival and the Prize for Best Original Music at the Saint-Jean-de-Luz International Film Festival (in 2020, for Servants), Special Mention for Original Music at the Gala of Filmmakers of the Republic of Moldova (in 2020, for Soviet Garden), the Romanian Filmmakers Union Prize (in 2016, for Carmen, and in 2017, for Orizont) and the Gopo Prize (in 2008, for The Necessary Angel). He composes music for dramas, comedies and documentaries with equal ease and pleasure.
His works of contemporary music have been performed in many countries in Europe and America and awarded prizes in numerous national and international competitions, such as "The Roads of Romanticism" (Warsaw, 2007 - First Prize) or the "George Enescu" International Composition Competition (Bucharest, 2009 - Special Prize). They have also been part of the repertoire of renowned international festivals such as the Warsaw Autumn, the George Enescu Festival or the World Music Days.
In the field of entertainment music, from 2000 to 2001 Cristian Lolea was a member of the ionescu band '. The single România de vânzare was Number 1 in the Romanian Top Ten MCM for three consecutive weeks in 2000.
Cristian Lolea is also a prolific orchestrator and arranger, having worked on numerous classical, pop and rock pieces for orchestras such as the New England String Ensemble and soloists such as Angela Gheorghiu.

TOM BRÂNDUȘ
Multimedia artist - musician and visual artist, Tom Brânduș, graduated from the National University of Music in Bucharest where he is currently completing his doctoral studies. In 2002 he specialized in Music Production and Multimedia at Berklee College of Music in Boston Massachusetts and New York University under a Fulbright program.
Since 2003, after his return to Romania, Tom has been working as an associate professor at the National University of Music in Bucharest, where he has taught courses in music technology, while producing music and videos for more than 40 theatre plays, did multimedia concerts, interactive installations and many other events.
As a performing musician and multimedia producer, Tom has been active on various stages in Romania and abroad, as part of several projects including both electronic music bands - Shukar Collective and Souptrip; large-scale theatre plays - "Rhinoceros" directed by Robert Wilson, "The First Man" and "The Storm" directed by Cătălina Buzoianu; musical productions - "Chicago" and "Le Bourgeois gentilhomme", as well as interactive architectural multimedia installations, built and presented at two editions of the Spotlight Festival in Bucharest. Tom has also designed and produced laser and light shows for various events and festivals in Romania, and since 2008 he is the founder and organizer of the Abduction Beamz project - an annual electronic music, lasers and smart lights event held outdoors near Bucharest.
Throughout his career, Tom has created a signature style by structurally and semantically combining his original music with visual elements - in particular intelligent laser light sequences, thus achieving an interdependent relationship between mediums that contributes to the appreciable amplification of the artistic message in his works.

PATRICIA VINCENT
Patricia Vincent, born in Bucharest, is a multidisciplinary artist in the field of artistic clothing design trained in Vienna, Austria. She attended Michelbeuern College, Mode Wien Akademie and Ucecom Bucharest (class of Prof. Domnica Nimerinco), where she studied the structure, properties and classification of textile fibres, sewing techniques (manual and mechanical), printing technology and construction, illustration, photography, costume history and marketing.
In 2006 she opened her own studio in Vienna, where she creates one-of-a-kind pieces for projects with their own message or around stories conceived by artists. Her works have been exhibited in Vienna at the Romanian Embassy, Romanian Cultural Institute, Mode Wien, Fashion Week, Hofburg Palace, Niederösterreich Palace, Anker-Expedithalle, Albertina Museum and other artistic and cultural spaces and have appeared in numerous publications in Romania and Austria. Patricia Vincent has won various distinctions and awards, the most important being "Austria's Best Wedding Designer" in 2016. The aesthetic style of her work is defined by naturalness, grace and subtle elegance.

Translated by Andreea Grințescu,
University of Bucharest, Faculty of Foreign Languages and Literatures, MTTLC, year I
Corrected by Silvia Petrescu