> [Archived] Events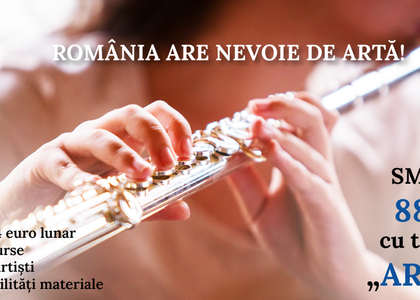 Romania needs art! The talented young people need our support!
Monday, 25 October 2021 , ora 15.04

As we did for 12 editions through the Royal Fundraising Concert, which traditionally took place on the birthday of King Michael, we give you a meeting with those who create beautiful Romania on Sunday, October 24th.
The show-event Romania needs art! brings the beautiful musical moments of the Royal Concerts, the message of Her Majesty Margaret, interviews with artists and opinion formers and testimonials of former scholarship holders, in support of a new generation of the national Young Talents program.
For many talented young people, the help received through scholarships, mentoring and promotion was an essential step in their evolution, a leap towards performance and a chance to build a successful career on the European stage. Many other talented young people from modest families now need this help to pursue their dream! Each of us can contribute to their future through a simple but very important gesture - an SMS with the text ARTA at 8864, to support the Young Talents scholarships with 4 EUR per month.
Artistic and cultural personalities, musicians and visual artists, with international recognition, join the campaign to emphasize the importance of art and the need to support young people at the beginning of the road, to reach their true potential. Among them Irina Margareta Nistor, Marcel Iureș, Paula Seling, Zoli Toth, conductor Tiberiu Soare, soprano Iulia Isaev, conductor Gabriel Bebeșelea, cellist Marian Cazacu, composer Sebastian Androne, soprano Diana Alexe, tenor George Virban, visual artist Sabina Dragomir. Details: www.frmr.ro/romania-are-nevoie-de-arta/
Support the talented young people of Romania, by SMS with the text ARTA at 8864, thus contributing 4 EURO per month! Together we create the cultural future of this country!

Translated by Bianca Dumitru,
University of Bucharest, Faculty of Foreign Languages and Literatures, MTTLC, year II
Corrected by Silvia Petrescu