> [Archived] Events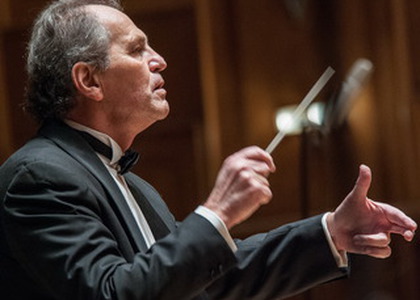 Cristian Mandeal conducts Radio Romania's 93rd anniversary concert
Wednesday, 27 October 2021 , ora 14.52

For 93 years, during both peaceful as well as troubling times (such as the one we are currently dealing with), RADIO ROMANIA enters the hearts and homes of listeners within and outside the country's borders. Each year on November 1st we celebrate the anniversary of the public radio channel's first broadcast (in 1928). This moment is always celebrated by a concert performed by the NATIONAL RADIO ORCHESTRA OF ROMANIA, founded by conductor Mihail Jora in the same year as the inauguration of the press outlet.
As such, on Friday, October 29th 2021 (starting at 19.00), the Radio Orchestra, which is reaching the ripe old age of 93 as well, will be performing a beautiful concert under the baton of renowned conductor CRISTIAN MANDEAL. In nearly 50 years of work, he has conducted over 60 debuts, some of which were dedicated to him. The event's special guest, from SALA RADIO, is pianist CONSTANTIN SANDU, resident citizen of Portugal, where he is enjoying a flourishing artistic as well as educational career as a professor at the Porto Superior School of Music and Performing Arts.AS
Since his orchestral debut at only 14 years old, the Romanian musician has had an intense solo career in various countries in both Europe and Asia and has been a guest at many prestigious international festivals (George Enescu - Bucharest, Chopin - France, April Fair - Seville, Muziksev - Izmir, etc.). A regular collaborator of the Romanian and Portuguese orchestras, he was also the soloist of certain important European orchestras, such as Arthur Rubinstein of Lodz, The Philharmonic of Halle, Bodensee-Symphonie-Orchester of Konstanz, The National Concert Orchestra of Belarus, The Porto National Orchestra, etc.
The programme will open with a fitting piece for the celebrated anniversary: Muzică pentru Radio by Romanian composer FILIP LAZĂR (1894-1936). Muzică pentru radio (1931) is a brilliant piece, in which folk-inspired elements are intertwined with those of the 20th century.
A graduate of the Bucharest Conservatory, Filip Lazăr had an extensive career as a concert pianist while maintaing a teaching position in France and Switzerland. He also founded The Society of Romanian Composers (Paris, 1920). The time he spent in this influential centre of music is punctuated by ties to great composers of that time, the Triton Musical Society (of which he was president), encompassing musicians such as Sergei Prokofiev, Maurice Ravel and Igor Stravinsky.
The concert will continue with MOZART: Piano Concero No. 21 in D Major - an opportunity to appreciate pianist Constantin Sandu's solo skills - and will end BEETHOVEN: Symphony No. 2. Despite the tragic circumstances brought about by the onset of his hearing loss at the time this piece was composed, Beethoven's symphony is rather cheerful, full of a certain vitality, a stark contrast to his situation. On April 5th 1803, the titan of Bonn was conducting the debut of his piece at the Theater an der Wien.
Access into Sala Radio will be permitted only by compliance with the legal norms currently in place. Wearing a mask is mandatory and public access to the concert hall (at 30% of maximum capacity) will only be permitted with proof of vaccination or proof of recovery, only by means of the EU digital COVID certificate, available at https://certificat-covid.gov.ro/, and which must be verified by the Radio Romania staff through the "Check DCC" mobile app. For more details regarding access, please consult the official website https://www.orchestreradio.ro/.
Tickets are available online at iabilet.ro. Tickets can also be purchased on the day of the event (between 14.00 and 19.00) at the Sala Radio ticket booth. Tickets are also available in Flanco chain stores, Rompetrol gas stations, Unirii 1 subway station, "Muzica" stores, IQ BOX, Uman, and at the Selfpay terminals. You can pay online by card, PayPal, cultural ticket card Sodexo, via Vodafone or Orange bill and through Fan Courier cash on delivery, anywhere in the country.
The concert will be broadcasted LIVE via wavelength on all Radio România Cultural and Radio România Muzical frequencies, and via online streaming on the official websites of the two media outlets.

Translated by Bianca-Maria Ciucașu,
University of Bucharest, Faculty of Foreign Languages and Literatures, MTTLC, year I
Corrected by Silvia Petrescu