> [Archived] Events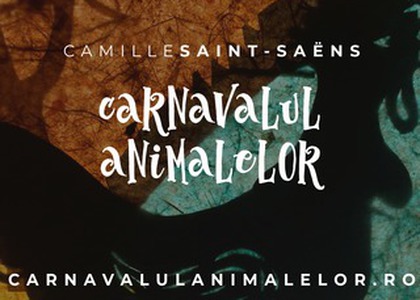 'The Carnival of Animals', an independent cultural project dedicated to the visual and musical education of the children who live in culturally disadvantaged areas
Thursday, 4 November 2021 , ora 19.47

It represents a continuation of the series of cultural projects dedicated to music and art education organized by the Cultural Association ISVOR, such as "Music Laboratory" and "ConnectArts", the project 'The Carnival of Animals' presents the musical suite of the French romantic composer Camille Saint-Saëns, bearing the same name, in the playful and full of freshness interpretation of a chamber orchestra composed of ten young and valuable musicians. The music is visually commented by the animated illustration of the 14 musical parts, in a show filmed by the "shadow theatre".
The movie 'The Carnival of Animals' was presented in video projections, followed by creative workshops dedicated to the musical education and the "shadow theatre", in some of the rural schools from Vâlcea County: The Secondary School Mălaia, The Secondary School Muereasca de Sus, The Secondary School Sălătrucel. The workshops will start once again in the schools from Vâlcea after the school vacation.
In the next stage, the project will be able to be toured in other Romanian schools as well (through video projections of the movie, as well as workshops of "shadow theatre".), as the reactions received so far have been exciting.
'The Carnival of Animals' is indeed open for the public worldwide: the audio-visual production will be available online, through the website www.carnavalulanimalelor.ro (which will be launched on the 10th of November) and through social media as well:
Facebook (https://www.facebook.com/asociatia.isvor),
Instagram (https://www.instagram.com/asociatia.isvor/),
Youtube (https://www.youtube.com/channel/UCKdO8FU-OV2mSCS5BnreynQ).
Until then, we invite you to listen to the musical suite on SoundCloud
(https://soundcloud.com/carnavalul-animalelor).
The project team consists of extraordinary artists and specialists: Roxana Ioana Cîrciu, Andrei Gologan - piano, Valentin Șerban, Andrei Stanciu - violin, Alexandru Spînu - viola, Izabela Ghergu - cello, Vlad Rațiu - double bass, Diana Nedelea - flute, Sebastian Antoneac - clarinet, Irina Rădulescu - xylophone, glockenspiel; Adrian Buciu - musical coordinator; Florin Tudor - music director; Andrei Barbu - sound engineer; Beatrice Iordan - screenwriter, director and show animator, workshop coordinator; Florin Ghenade - video director; Irinel Cîrlanaru - PDO, camera, editing, colour grading; Czernak Attila - accordor; Florin Iordan - musician, workshop coordinator; Daniel Ivașcu - graphic design, web design, video projections, workshops; Adelina Mariș - communication; Alina Ștefănescu - local coordinator of school workshops; Oana Ivașcu - producer and project manager.
You can find information about Cultural Association ISVOR on the website: www.isvor.ro

Translated by Roberta Ana-Maria Gulerez,
University of Bucharest, Faculty of Foreign Languages and Literatures, MTTLC, year I
Corrected by Silvia Petrescu