> [Archived] Events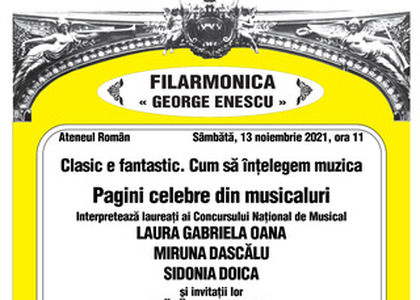 Classic is fantastic. How can we understand music. The opening of the 2021-2022 season. Famous pages from musicals
Monday, 8 November 2021 , ora 10.08

The 2021-2022 season Classic is fantastic. How can we understand music should have already begun and, according to tradition, the Orchestra of engineers "Petru Ghenghea" should have been on the stage of the Romanian Athenaeum's Big Hall, on Saturday, 23rd of October, at 11 o'clock in the morning. Unfortunately, out of objective reasons, well known to everyone, the concert was suspended. Now we're announcing what should have been the second concert of the season, an incredibly attractive program which joins famous musical pieces from musicals known all over the world together, performed by beautiful and talented young people, who stood out in the first edition of the National Musical Tournament, the first such event from Romania, organized by the National Musical University of Bucharest and coordinated by univ.prof.dr. Mihai Cosma, through the Institutional Development Fund, in the month of august from this year. Laura Gabriela Oana, Miruna Dascălu, Sidonia Doica and their guests Cătălin Petrescu and Raluca Ouatu (piano) are the artists who can be seen, listened to and applauded, on Saturday, 13th of November, at 11 o'clock in the Big Hall of the Romanian Athenaeum. Chicago, Cabaret, Les Misérables, Mary Poppins are some of today's legendary scores from which many young interpreters chose to sing areas which are well known and appreciated by the large public.
Saturday, 13th of November, 11 o'clock, the Romanian Athenaeum
Classic is fantastic. How to understand music
Famous pages from musicals
Winners of the National Musical Tournament who perform
LAURA GABRIELA OANA
MIRUNA DASCALU
SIDONIA DOICA
And their guests
CATALIN PETRESCU
RALUCA OUATU - piano
In the program, works from Sara Bareilles, Leonard Bernstein, John Kander, Jim Jacobs and Warren Casey, Jonathan Larsson, Claude - Michael Schonberg, Marc Shaiman
CRISTINA SÂRBU produces the commentary
The concert - show is made in collaboration with the National University of Music from Bucharest through the FDI 2021-0162 project
The tickets can be purchased:
- From the House of Tickets at the Romanian Athenaeum
The program: Tuesday - Friday 12:00 - 19:00. The payment is only in cash.
Telephone: 021.315.68.75
Online, by accessing the www.fge.org.ro site, the "Calendar" section. From the moment the tickets are bought, they can only be returned following the conditions provided by the law
The access in the Romanian Athenaeum's hall is permitted with the participation of 30% of the public in proportion with the location's maximum capacity, if all the participants are vaccinated against the SARS - CoV - 2 virus and if 10 days have passed since the completion of the full vaccination schedule or for persons who are in the period of the 15th and 180th day after the confirmation of being infected with SARS - CoV - 2 and the wearing of the protective mask is assured. The verification of these conditions will be made before the access into the Romanian Athenaeum's site.

Translated by Hakan Ugur Geafer,
University of Bucharest, Faculty of Foreign Languages and Literatures, MTTLC, year I
Corrected by Silvia Petrescu