> [Archived] Events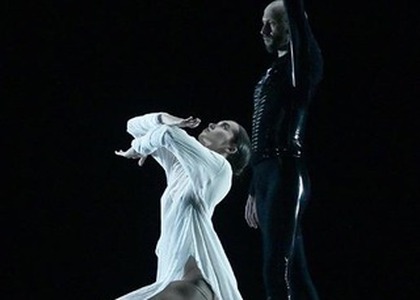 The premiere of the Winterreise show took place in Barcelona
Thursday, 11 November 2021 , ora 14.39

On Friday, November 5th, I had the opportunity to be in Barcelona, with the support of The International Grand Prix of Romania - Trophaeum Artis Cantorum and Radio România Muzical, to watch at the Gran Teatre del Liceu the Spanish premiere of the show Winterreise signed by the well-known French choreographer Angelin Preljocaj on the music of Franz Schubert. A syncretic show presented for the first time in 2019 at the Scala Theater in Milan, in which the 12 ballet dancers perform on the music of the Schubertian lied cycle, performed live by the Austrian baritone Thomas Tatzl and the Irish pianist James Vaughan.
The protagonist of the journey is not personified by any of the 12 ballet dancers, in particular, a choice that actually reflects the permanent changes of emotions and feelings that characterize his personality. The traveler could be Schubert himself, but also a feminine side of him or even a woman - this is the idea from which the choreographer Angelin Preljocaj starts in his dramaturgy, constantly oscillating between masculine and feminine. In fact, each of us might find ourselves in the traveler's story, and the death to which he is heading can be seen as a metaphor.
The 12 ballet dancers, a number that symbolizes the months of the year, preserve the chamber, intimate atmosphere of Schubert's composition, in a show that the choreographer describes as "a journey that aims to leave no one indifferent because it resembles life itself ". Angelin Preljocaj imagined at a spatial level a garden in the cold season, but including the perspective of the seasons to come. Romantic melancholy is accentuated by scenery, costumes. and play of lights, and suffering is accompanied by the concept of a beneficial death. Black predominates, but, as in the lyrics of Wilhelm Müller, a pale trace of hope is represented by small accents of light. Gradually, black turns into warm colors, but the idea of salvation turns out to be illusory - the traveler inevitably returns to the despair caused by unfulfilled love and his hopeless life.
The performance of the Austrian baritone Thomas Tatzl and the Irish pianist James Vaughan was excellent, as well as that of the ballerinas, and the show, as a whole, was an exceptional achievement. The suggestive power of Müller's poems, already enhanced by Schubert's music, emanated even more emotion in this choreographic vision.
The show can also be watched on November 10th at the Gran Teatre del Liceu in Barcelona, then, at the end of January next year, at the Champs-Elysées Theater in Paris.

Photo © Jean-Claude Carbonne
Andreea Kiseleff
Translated by Georgiana-Carmen Rădulescu,
University of Bucharest, Faculty of Foreign Languages and Literatures, MTTLC, year I
Corrected by Silvia Petrescu