> [Archived] Events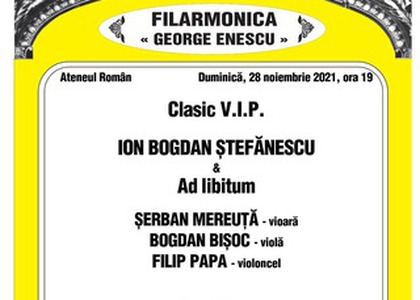 Clasic V.I.P
Monday, 22 November 2021 , ora 11.02

The chamber recital "Clasic V.I.P", on November 28th, at 19.00, at the Romanian Athenaeum, brings together two well-known names in Romanian musical life: flutist Ion Bogdan Ștefănescu, soloist of the "George Enescu" Philharmonic in Bucharest and the Ad libitum quartet, soloist group of the "Moldova" Philharmonic from Iași, represented by ȘerbanMereuță - violin, Bogdan Bișoc - viola and Filip Papa - cello. The program proposes some of the most important works belonging to the three leaders of the classical current Haydn, Mozart and Beethoven.
Therefore, on Sunday, November 28th, at 19.00, in the Great Hall of the Romanian Athenaeum, the public is invited to a concert - "Classic V.I.P"-event in quartet formula, with splendid music, performed by Ion Bogdan Ștefănescu and Ad libitum.
Sunday, November 28th, 7 pm, Romanian Athenaeum
Classic V.I.P.
Ion Bogdan Ștefănescu& Ad libitum
ȘERBAN MEREUȚĂ - violin
BOGDAN BIȘOC - viola
FILIP PAPA - cello
Time schedule
Joseph Haydn
London Trio no. 2, in G major, for flute, violin and cello, Hob. IV: 2
Ludwig van Beethoven
Serenade in D major for flute, violin and viola, op. 25
Wolfgang Amadeus Mozart
Quartet with flute in D major, KV 285
Tickets can be purchased:
- At the main entrance of the Romanian Athenaeum (only one hour before the concert starts)
Schedule: Tuesday - Friday 12:00 - 19:00. Payment only in cash.
Phone: 021.315.68.75
- Online, accessing the website www.fge.org.ro - "Calendar" section. Tickets once purchased are only refundable under the conditions provided by law.
Access to the hall of the Romanian Athenaeum is allowed "with the participation of the public up to 50% of the maximum capacity of the space, if all participants are vaccinated against SARS-CoV-2 virus and for which 10 days have passed since the completion of the vaccination schedule or persons in the period between the 15th and the 180th day after the confirmation of the SARS-CoV-2 infection and the wearing of the protective mask is ensured ". The checking of these conditions will be done before the access inside the Romanian Athenaeum.

Translated by Elena Patricia Măroiu,
University of Bucharest, Faculty of Foreign Languages and Literatures, MTTLC, year I
Corrected by Silvia Petrescu