> [Archived] Events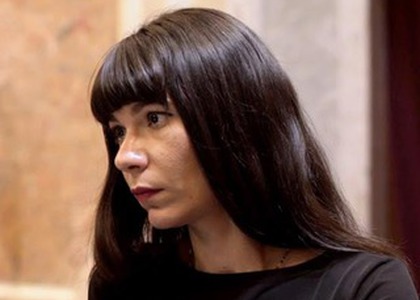 Pianist Eliza Puchiano performs again on Tuesday's Season, in the evening
Thursday, 2 December 2021 , ora 9.58

The appearance of Eliza Puchianu as a soloist at the Museum of Fine Arts Boston during the Sound Bites 2016 Season was the debut of the pianist in the United States of America. Her concerts and recitals then took her to stages from The Hague, Amsterdam, Warsaw, Bielsko, Paris, Venice, Vienna, Vilnius, Bratislava, Padua, Ulm, Traunstein and Las Palmas. Eliza has performed as a soloist with the National Radio Orchestra, and with the RIAMSO orchestra on the National Concert Hall in Dublin and Castalia Hall in Kilkenny. Being the winner of the Yamaha Scholarship for Pianists in 2014,she graduated from the Royal Irish Academy of Music in the same year. Her activity also extends to the field of accompaniment by collaborating with Wexford Opera Festival 2013, Opera Briefs 2013 and 2014, Edinburgh Festival 2011, George Enescu National Competition 2014, Jeunesses Musicales 2015, and Sighișoara Academy. In 2016, 2017 and 2018, she was selected as an accompanist of the STEP program at Boston Symphony Hall, and since 2019 she has been an associate professor at the George Enescu National College of Music where she has been working as a coordinator of the college's choreography-accompaniment department.
Her pedagogical experience lists positions as a teacher at Leesson Park School of Music, Ireland (2014-2016), Steinert M. & Sons Piano Academy, USA (2018-2019) and membership in the juries of the Allegretto, Brownissimo and Lirika Piano Competition in Bucharest (2019, 2020, 2021).
Currently, the singer focuses on building lesser-known piano repertoires, especially dealing with the musical creation of composers from the 18th, 19th and 20th centuries.
Tuesday, December 7th, 19.00, Romanian Athenaeum, Small Hall
Tuesday evening Season
PIANO RECITAL
ELIZA PUCHIANU
Time schedule
Johann Sebastian Bach - Prelude and Fugue in F minor by the Well-Tempered Harpsichord (vol. II), BWV 883
Cécile Chaminade - Sonata in C minor, Op. 21
Robert Schumann - Fantasy in C major, Op. 17
Amy Beach - Improvisation, op. 128, no. 5
Co-producer: Radio Romania Musical
Tickets can be purchased:
- From the Ticket Office of the Romanian Athenaeum (just one hour before the concert starts!). Payment only in cash.
Phone: 021.315.68.75
- Online, accessing the website www.fge.org.ro - "Calendar" section. Tickets once purchased are only refundable under the conditions provided by law.
Access to the hall of the Romanian Athenaeum is allowed "with the participation of the public up to 30% of the maximum capacity of the space, if all participants are vaccinated against SARS-CoV-2 virus and for which 10 days have passed since the completion of the complete vaccination scheme or persons which are in the period between the 15th and the 180th day following the confirmation of the SARS-CoV-2 infection and the wearing of the protective mask is ensured ".
The verification of these conditions will be done before the access inside the Romanian Athenaeum.

Translated by Medeea Alexandra Stan,
University of Bucharest, Faculty of Foreign Languages and Literatures, MTTLC, year I
Corrected by Silvia Petrescu