> [Archived] Events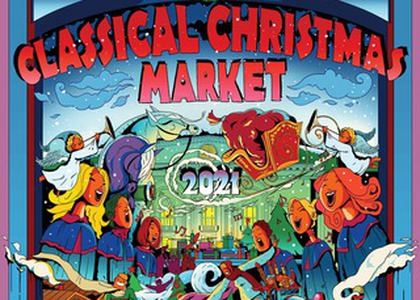 Bucharest National Opera and Madrigal Choir are announcing the Christmas Fair – Classical Christmas Market
Thursday, 2 December 2021 , ora 10.00

The Bucharest National Opera and the National Chamber Choir Madrigal - Marin Constantin, alongside the Cantus Mundi National Programme are announcing the first Romanian Christmas Fair which will call special attention to winter's classical music - Classical Christmas Market.
For the first time in a hundred years, the Bucharest National Opera will be hosting a Christmas Fair. Classical Christmas Market will be open to the public between the 3rd and the 31st of December 2021 outside on the National Opera terrace in the heart of Bucharest (70-72 MihaiKogălniceanu Boulevard).
Organised by two leading Romanian cultural institutions who are active in their promotion of classical music and education through music, the new Christmas Fair will offer visitors of all ages a high quality event. The fair will take place during the winter holiday season, and through its impressive presentation, it will offer a diverse and enticing selection.
Classical Christmas Market will take place on a 12.000m2 area and will include story-like decorations and activities all around the skating rink - the Fair's main attraction. The public will also be able to enjoy the carollers' special stage which has been organised for the children's shows and concerts by Cantus Mundi National Programme. Even more, the fair will include The Elves' Workshopsfor the little ones, amazing sleigh rides over the skating rink, rides on the OCC (Children's Comic Opera) Express Train, horse-drawn sleigh rides, the traditional candy houses and many others surprises, all of them alongside excellent music.
Together with our partners at Bucharest National Opera and with support from Children's Comic Opera and ROMSILVA, we wanted to add to the joy and magic of the winter holidays with an experience that is at once educational and fun and to 'invite' good music to lead this very loved month in a story-like setting. Classical Christmas Market will give children and adults alike a piece of Christmas magic and the authentic and familiar holiday feeling, the sense of safety and belonging, especially during these difficult times. - said Emil Pantelimon, the manager of the Madrigal - Marin Constantin Chamber Choir.
During the Fair, the big Opera hall will host several performances - the centennial performance of Wagner's Lohengrin (in premiere directed by Purcărete, 8th,10th and 12th of December), Young Choreographers' Evening (December of 14th) Tchaikovsky's The Nutcracker ballet (15th, 18th, 23rd and 29th of December), Verdi's La Traviata (19th and 22nd of December) Mozart's Figaro's Wedding (December 18th) and Puccini's La Bohème (29th of December) - organised by the Bucharest National Opera - and the Madrigal - Marin Constantin Chamber Choir Christmas show, The Christmas Way (16th, 17th of December).
*
Bucharest National Opera, an institution under the Ministry of Culture, is the most important stage in Romania that's dedicated to musical and choreographic performances. Established a century ago, in 1921, Bucharest National Opera evolved from the Romanian Opera Company established in 1885 by George Stephănescuwhich originally ran its shows at the National Theatre. The first show took place on December 8th 1921 with Wagner's Lohengrinand conducted by the great composer George Enescu - a historical moment in the history of Romanian culture. This year, also on December 8th, Silviu Purcărete will be directing the hundred year old anniversary of this performance, under the same title and with an internationally renowned cast.
"Madrigal - Marin Constantin" National Chamber Choir is an emblem in Romanian and universal music. Since its establishment in 1963 by conductor Marin Constantin (1925-2011), Madrigal Choir has held over 4.600 worldwide performances, becoming a national icon and brand. It is emblematic among the worldwide choir music scene, with a repertory of European Renaissance, byzantine music and contemporary Romanian and universal music. In November 2016, Madrigal - Marin ConstantinNational Chamber Choir was recognised as Ambassador of Freedom, Hope and Peace, and received the Jean Nussbaum and Eleanor Roosevelt Award at Geneva's Palace of Nations within the Global Summit for Religion, Peace and Safety. After 58 years of uninterrupted activity, Madrigal - Marin Constantin National Chamber Choir continues on its cultural diplomat path, being one of the longest lasting and appreciated European choir ensembles.
Since 2011, Madrigal Choir has run the Cantus Mundi National Programme , the largest Romanian programme for children's social integration through music, initiated by maestro Ion Marin, and currently united over 1.680 choirs and over 60.000 children in Romania and the diaspora.

Translated by Carla Bețianu,
University of Bucharest, Faculty of Foreign Languages and Literatures, MTTLC, year I
Corrected by Silvia Petrescu