> [Archived] Events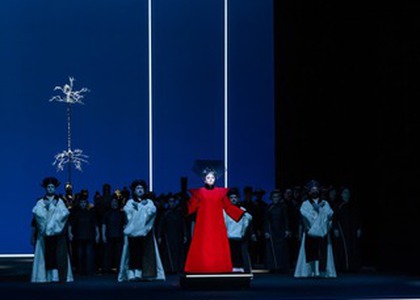 Turandot premieres in Paris
Monday, 13 December 2021 , ora 13.49

On December 4th, 2021, the premiere of the opera Turandot took place at the Opera National de Paris (Bastille). I had the opportunity to see a show in which the sets and lights, so essential for the realization of the directorial concept conceived by Robert Wilson, fit perfectly with the story of the cruel princess, the daughter of an emperor of ancient China. The production is made as a series of acts, each borrowing specific ritualized gestures directly from the Noh theatre, with rich symbols able to link the group scenes or bring a burlesque note, as is the case of the comic trio, Ping, Pang and Pong. At the desk was the well-known conductor Gustavo Dudamel, with whose help the orchestra could perfectly follow the speech of the soloists and the choir - prepared by Ching-Lien Wu. Although the scenic landscape was thought to be predominantly monochrome, it was, paradoxically, dominated by the passionate red - the colour of blood, death, rage and love. The first two acts took place without a break, in the same setting, but the last act began under the sign of the Rising Sun.
Elena Pankratova made her debut as Turandot. She was also the only one who wore the colour red - referring both to the crimes for which the princess is responsible in the first acts, but also to the love that covers the last scenes of the opera. In the silent speeches of the first act, the Russian-born soprano played a relentless, cruel character. But her transformation from the last act is so convincing, the colours of her voice change, from gloomy to bright, from sharp to warm. Pankratova proved an impressive control over the vocal instrument, succeeding in every intention she set out to achieve.
Gwyn Hughes Jones gave life to a romantic Calaf, bold, even fearless in the face of death. His voice sent a serene but determined music to the audience, faithfully portraying the classic character of the romantic hero.
As I said before, the delight of the first acts were Ping, Pang and Pong, played by AlessioArduini, JinxuXiahou and Matthew Newlin. The group moments, but also the discreet individual interventions offered the spectators an unexpected portion of fun (be it only temporary, sometimes ironic or even sarcastic).
Liu's character was played by Guanqun Yu. I would say that her presence was the most humane, faithful to the men in her life until death, sensitive to the end, her interventions were perfectly matched by her clear voice, as pure as her love for Calaf.
In other roles I could find: VitalijKowaljow (Timur), Carlo Bosi (Altoum), but also the Romanian bass Bogdan Taloș (Mandarin).
The production of the Turandot opera is, as you could see from the analysis of the distribution, an undoubted argument in favour of international collaborations, an undeniable proof that music can unite art lovers from all over the world under its banner.

Photo credit: Charles Duprat / OnP
Norela Costea
Translated by Elena Patricia Măroiu,
University of Bucharest, Faculty of Foreign Languages and Literatures, MTTLC, year I
Corrected by Silvia Petrescu