> [Archived] Events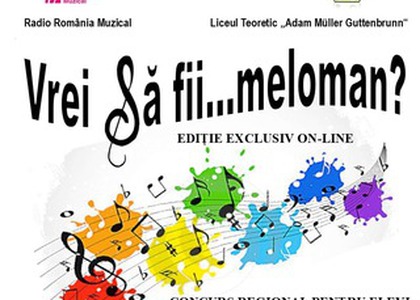 ''Do you want to be…melomaniac?'' finale
Wednesday, 15 December 2021 , ora 20.07

Now the finale of the sixth edition of ''Do you want to be...melomaniac?" contest may certainly suggest that there are more and more young people passioned about music. In first place, this event is a meeting of music lovers from non-vocational schools, in other words, a meeting for those who find time for loving music, among homework and school activities. The subject of this edition - ''In Dance Steps'' - meant broadening new horizons towards geting to know a very appreciated classical music genre. The young contestants proved it to us through the self-dedication with which they prepared and participated in this contest.
In the beginning of the project "Challenges of the online lessons" workshop took place. The event started on Meet platform and it reunited more than 30 teachers of different subjects along the country. Specific problems of teaching-learning-evaluation were debated in the online regime, ideas were exchanged, examples of good practice were presented and impressions were shared.
The theoretical tests were at the same time on Meet platform, under the assistence of the volunteer professors. All contestants proved to be fair-play, devoted, and serious.
The graduation ceremony was followed live on Facebook by contestants, teachers, parents and those who are passioned about music. Rewards, mentions and special rewards were given. The Radio România Muzical Reward was awarded to 5 contestants who recognized all the musical auditions from the contest's tests at the "I am the most passionate!" category.
Larisa APOSTOL
Mara Ioana NOHAI
Ștefan BALAHURA
Mihai ANTONESCU
Ilia DAMIAN
Congratulations to all of you!
We thank all the involved participants in this project: our partners, the organization team, contestants, coordinator-teachers.
We listen together!
I Prize
The Happy Team :) -"Marin Preda" Theoretical High School Bucharest
Alexandru TROCAN
Carmen MIHAI
Ana Beatrice UNGUREANU
prof. Maria Gabriela UNGUREANU
BASS - "Nicolae Bălcescu" Theoretical High School Cluj-Napoca, Cluj county
Briana SPĂTAR
Adelina BOANCĂ
Sofia RUSU
prof. Emilia BORZA și Liliana ȘUTEU
II Prize
Oltea Doamna- "Oltea Doamna" Gymnasium School Oradea, Bihor county
Amalia-Valeria ILIEȘ
Mara POPA
Ștefan-Teodor ȚENȚ
prof. Mihai JULA
MENTION
Music and dance - No. 163 Gymnasium School Bucharest
Ștefania DUMINICĂ
Teodora BUNGIU
Mihai BUNGIU
prof. Maria Gabriela UNGUREANU
PUBLIC'S AWARD
BAS Team - Menuet
II. I AM THE MOST PASSIONATE!
I Prize
Larisa APOSTOL - piano
no.27 Gymnasium School Bucharest
prof. Georgiana MARIA
II Prize
Mara Ioana NOHAI- voice
no. 194 Gymnasium School Bucharest
prof. Adina Violeta ANICA
Ștefan BALAHURA- piano
No. 27 Gymnasium School Bucharest
prof. Georgiana MARIA
III Prize
Ștefan Mădălin SIMION- guitar
"Marin Preda"Theoretical High school Bucharest
prof. Maria Gabriela UNGUREANU
Mihai ANTONESCU- piano
No.195 Gymnasium School Bucharest
prof. Elena-Daniela CUCULICI
MENTIONS
Ilia DAMIAN- violin
No.195 Gymnasium School Bucharest
prof. Elena-Daniela CUCULICI
Rosse-Marie NICOLAE - piano
No. 195 Gymnasium School Bucharest
prof. Elena-Daniela CUCULICI
Teodora Maria TRANDAFIR- voice
No. 194 Gymnasium School Bucharest
prof. Adina Violeta ANICA
Teodor Gabriel BABA- piano
"Marin Preda" Theoretical High school Bucharest
prof. Maria Gabriela UNGUREANU
SPECIAL AWARDS RADIO ROMÂNIA MUZICAL
Larisa APOSTOL
Mara Ioana NOHAI
Ștefan BALAHURA
Mihai ANTONESCU
Ilia DAMIAN
SPECIAL AWARD FOR INTERPRETATION
Teodor Gabriel BABA
SPECIAL AWARD FOR VIRTUOSITY
Rosse-Marie NICOLAE
PUBLIC'S AWARD
Teodora Maria TRANDAFIR - Pseudofabula

Translated by Mara-Sabina Rolea,
University of Bucharest, Faculty of Foreign Languages and Literatures, MTTLC, year I
Corrected by Silvia Petrescu