> [Archived] Events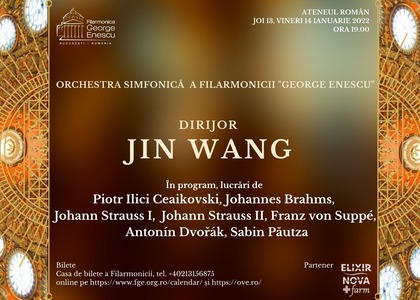 Conductor Jin Wang brings dance magic back tothe George Enescu Philharmonic in the first two symphony concerts with the public in 2022
Saturday, 8 January 2022 , ora 21.15

On Thursday, January 13th and Friday, January 14th, 2021, the George Enescu Philharmonic Symphony Orchestra will be conducted by conductor Jin Wang, in the first two symphony concerts with the public of 2022. The program of concerts held from 19.00, in the Great Hall of the Romanian Athenaeum, will include dances by Piotr Ilyich Tchaikovsky, Johannes Brahms, Johann Strauss I, Johann Strauss II, Antonin Dvoűák and others. "Two years ago, the quarantine caused by Covid-19 interrupted my rehearsal with the George Enescu Philharmonic Orchestra, and we were all on stage at that time. The artists have suffered a lot since then, but now I'm very happy that I am again in front of theBucharest audience to present this program full of joy and hope for 2022. In this concert we will enjoy through music the brilliance of the European cultural heritage, listening to the sound of Johann Strauss, Dvorak, Brahms, Tchaikovsky or Sabin Păutza and celebrating his return to the Romanian Athenaeum, I wish you all a happy and beautiful New Year and welcome to the first concert of the George Enescu Philharmonic in 2022! ", says conductor Jin Wang.
SYMPHONY CONCERT WITH AUDIENCE
January 13th and 14th, 2021, Great Hall of the Romanian Athenaeum, 19.00
"George Enescu" Symphony Orchestra and Philharmonic Choir
Conductor
JIN WANG
Time schedule
Johann Strauss
The Bat
Johann Strauss
Tritsch Tratsch Polka
Johannes Brahms
Hungarian Dance No. 5
Antonin Dvoűák
Slavonic Dance, op. 72, no. 2
Pyotr Ilyich Tchaikovsky
Polish
Spanish Dance
Sabin Pautza
"Game II"
Franz von Suppé
Light Cavalry Overture
Johann Strauss
Persian March
Johann Strauss
Voices of Spring Waltz
Johann Strauss
Without Worries Polka
Sabin Pautza
Russian Medley
Johann Strauss
The Blue Danube Waltz
Johann Strauss - the father
The Radetzky March
Ticket prices are:
Category I: 110 lei;
Category II: 100 lei.
Tickets can be purchased:
- From theTicket Office of the Romanian Athenaeum
Schedule: Tuesday - Friday 12:00 - 19:00. Payment only in cash.
Phone: 021.315.68.75
-Online, accessing the website www.fge.org.ro - "Calendar" section. Tickets once purchased are only refundable under the conditions provided by law.
Access to the hall of the Romanian Athenaeum is allowed "with the participation of the public up to 50% of the maximum capacity of the space, if all participants are persons vaccinated against SARS-CoV-2 virus and for whom 10 days have passed since the completion of the complete vaccination schedule or persons which are in the period from the 15th to the 180th day after the confirmation of SARS-CoV-2 infection and the wearing of the protective mask is ensured ". The verification of these conditions will be done before the access inside the Romanian Athenaeum.

Translated by Alma Teodora Miron,
University of Bucharest, Faculty of Foreign Languages and Literatures, MTTLC, year II
Corrected by Silvia Petrescu