> [Archived] Events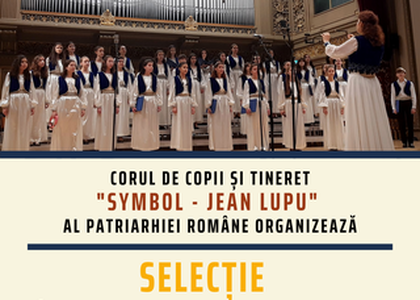 Selections open at the "Symbol – Jean Lupu" Children's and Youth Choir of the Patriarchate of Romania
Saturday, 8 January 2022 , ora 21.26

The "Symbol - Jean Lupu"Children's and Youth Choir of the Patriarchate of Romania is organizing a new selection on Saturday, the 8th of January, 2022, between 1:00 and 3:00 PM, at the Olari Church. Address: Olari Street, No. 6, Sector 2 (Moșilor Avenue).
Boys between the ages of 9 and 12 and girls between the ages of 10 and 18 are accepted.
The candidates wishing to become a part of this prestigious choir must meet the following criteria:
- good ear and well-developed sense of rhythm;
- great musical memory;
- beautiful voice;
- basic solfeggio skills
There's no place limit; everyone with skills and within the age limits will be accepted. Each candidate must be able to sing at least two songs (religious, secular, carols, patriotic).
The candidates will present themselves before the committee based on the order of arrival and registration with the secretary of the committee. No fee is being charged for this examination.
For more information, contact: 0726 247 439

Translated by Cristina-Bianca Ion,
University of Bucharest, Faculty of Foreign Languages and Literatures, MTTLC, year I
Corrected by Silvia Petrescu