> [Archived] Events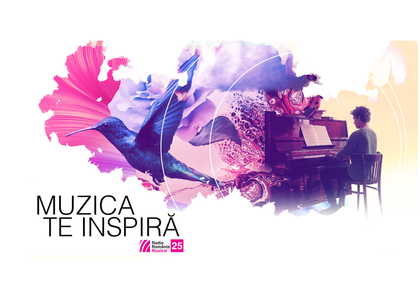 Music inspires you
Wednesday, 2 February 2022 , ora 16.04

"Music inspires you" - Radio România Muzical invites you to step on their virtual scene, to celebrate together 25 years of existence of an unique classic Romanian post, jazz and more.
Amateur or professional, instrumentalists, chorists or singers, big and small - all those who want to show that music inspires them and want to inspire through their art - are invited on the virtual stage Radio România Musical. We will see every musical moment as a gift for the anniversary of Radio România Muzical.
What you have to do?
• Choose a classic or jazz repertoire
• Study it :)
• Record with the best audio-video option you have access to
• Post the video(s) to YouTube
• Send the links you want to bring to the attention of Radio România Muzical at cristina.comandasu@radioromania.ro, accompanied by a small CV of performers and the names of the music composers and works covered, as well as contact details of the recording's author/authors
• A Radio România Muzical team will listen/watch the submitted content and select and sort the incoming recordings
• Starting with the 24th of March 2022, the selected records will be availableon Radio România Muzical facebook account
• We receive recordings throughout 2022 :)
• Enjoy your music! Let's celebrate with good and inspired music the anniversary of Radio România Muzical!

Translated by Laura-Elena Dobrin,
University of Bucharest, Faculty of Foreign Languages and Literatures, MTTLC, year I
Corrected by Silvia Petrescu