> [Archived] Events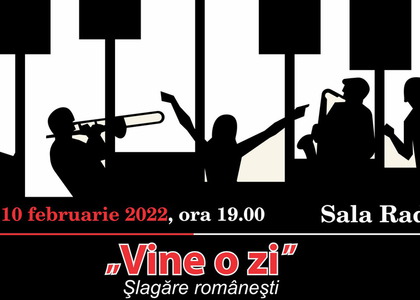 'Vine o zi': Romanian hits in jazz sounds - at the Radio Hall
Monday, 7 February 2022 , ora 13.23

On Thursday, February 10th, 2022, from 19.00, jazz lovers will enjoy a special concert at the Radio Hall, a foray into some of the most appreciated Romanian pop-rock or folk hits, presented to the public in a new new version, with jazz sounds!
Under the title "Vine o zi" you will hear hits like "Vine o zi" (Holograf), "Banii" (New times), "Vine o vreme" (Direcția 5), "Cântec de leagăn" (Horia Moculescu), "Trurli" (Vasile V. Vasilache), "Vorbe" (3 Sud Est), "Dor de viață" (Aura Urziceanu) and others.
The musical arrangements of the songs are signed by George Natsis, who declares about the event he initiated at the Radio Hall: After presenting this event last year in pandemic conditions, via live broadcast from Sala Radio, now is the first time that this project will be performed in front of the audience physically present in the hall, which increases our emotion and impatience. to sing. "
Some of the members of the Radio Big Band will take the stage on the Radio Hall: George Natsis - piano, Sebastian Burneci - trumpet, Paolo Profeti - alto saxophone, Cătălin Milea - tenor saxophone, Radu Florian - trombone, Adrian Flautistu - double bass, Laurențiu Zmău - drums and Adrian Cojocaru - percussion.
The concert will be broadcast LIVE on the airwaves - on all frequencies of Radio Romania Cultural and Radio Romania Music - and LIVE online, on the websites of the two radio stations.
Access to the Radio Hall will be allowed only under the conditions of compliance with the legal regulations in force. Tickets are available online on iabilet.ro. Tickets are also available in Flanco stores, Rompetrol gas stations, Unirii 1 Metro, "Music" stores, IQ BOX, Uman and Selfpay terminals. Online, you can pay by card, via Paypal, Sodexo cultural ticket cards, on Vodafone or Orange invoice or refund by Fan Courier, anywhere in the country.

Translated by Alma Teodora Miron,
University of Bucharest, Faculty of Foreign Languages and Literatures, MTTLC, year II
Corrected by Silvia Petrescu