> [Archived] Events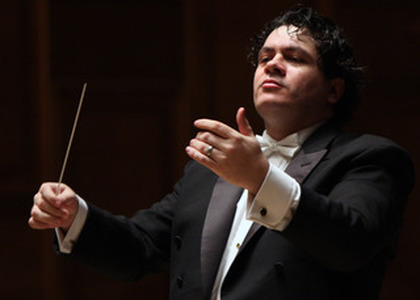 Cristian Măcelaru at the rostrum of the Romanian Youth Orchestra - the first concert in Romania as artistic director of the International Festival "George Enescu"
Friday, 18 February 2022 , ora 19.56

The Romanian Youth Orchestra led by Cristian Măcelaru - which can be heard for the first time in Romania after the moment he was appointed the artistic director of the "George Enescu" International Festival - will perform on Saturday, February 26, 2022, at 7 pm, at the Romanian Athenaeum, in an evening that has in its program two amazing masterpieces of Russian music: The Concerto for Violin and Orchestra in D major, op. 35 byCeaikovski, soloist French violinist of Romanian origin Sarah Nemțanu and Symphony no. 10 in E minor op. 93 by Șostakovici. The two artists of Romanian origin frequently collaborate as conductors and concert-masters of the Orchester Nationale de France in Paris, respectively, and their presence in Bucharest is a very special event.
The general rehearsal at noon at the Romanian Athenaeum is open to the public and is included in the educational cycle Classic is fantastic.
Marin Cazacu, the manager of the Romanian Youth National Art Center, declared in the preface of this concert: "I am glad that in the context of the long and great collaboration between Cristian Măcelaru and the Romanian Youth Orchestra we have the joy to presentCristian Măcelaru's first concert in Romania, as the artistic director of the "George Enescu" International Festival. The involvement of the two artists, Cristian Măcelaru and Sarah Nemțanu, in a project with the Romanian Youth Orchestra, contributes to the effort to offer young Romanian musicians professional experiences with aspirations to the highest level of performance and the Romanian public unforgettable emotional states ".
Conductor Cristian Măcelaru also declared: "Any reunion with the Romanian Youth Orchestra is a joy for me. The energy and enthusiasm I bring to every rehearsal or concert is truly overwhelming. And this energy gives new life to the score that we interpret it. "
Organizers: "Tinerimea Română" National Art Center and "George Enescu" Philharmonic.
Partner: "Serafim Antropov" Friends of Music Foundation.
Media partners: Radio România Cultural and Radio România Muzical, Romania TV, Mediatrust, Cultural Observatory, Liternet, Book Agency, Q Magazine.
For detailed information related to the activity of the National Art Center "Romanian Youth" and the Romanian Youth Orchestra you can access www.tinerimearomana.roor https://www.facebook.com/CentrulNationalTinerimeaRomana/ .

Translated by Georgiana-Carmen Rădulescu,
University of Bucharest, Faculty of Foreign Languages and Literatures, MTTLC, year I
Corrected by Silvia Petrescu