> [Archived] Events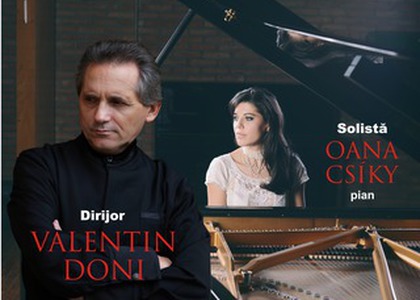 Liszt concert at the ''Oltenia'' Craiova Philharmonic
Friday, 25 February 2022 , ora 9.41

On Friday, 25th of February, at 7 PM, at Oltenia Craiova Philharmonic a Liszt piano concert will take place under the baton of conductor Valentin Doni, Knight of the Order of Arts and Letters provided by the French Guvernment. Concerto for Piano and Orchestra No.2 in A major written by Franz Liszt will be performed by Oana Csiky, laureate of multiple national and international contests. In the evening she will begin with In the Light of Evocation - George Enescu (first audition) by Ulpiu Vlad, and in the second part Symphony No. 8 in G major will be performed, a symphony with a sounding evocation of the pitoresque realm of Boemia,writen by Antonín Dvoűák

Valentin Doni, complex musician
He is known in a triple state as a conductor, composer and performer. He attended Institute of Arts ''G. Musicescu'' in Chișinău between 1973 and 1978, in Isai Alterman's conducting class and proffesor Pavel Rivilis' composing class. Valentin Doni had also didactic acivity as a proffesor at Institute of Arts ''G. Musicescu''(1980-1988) and at Republican Music College (1985-1987), both of which are in Chișinău.
Along with his orchestra, the conductor has toured in Italy, Spain, Portugal, Romania, France, Austria, Ukraine, summing up a significant number of concerts in which he has performed from masterpieces of universal music to contemporary pieces in the first audition. Valentin Doni accompanies both established soloists and young performers, and he is known for promoting the creations of contemporary composers in festivals. Since 1993, Valentin Doni has conducted in Romania the orchestras of the philharmonics in Bucharest,Iași, Bacău, Constanța, Ploiești, Sibiu, Arad, Târgoviște, Botoșani, Brașov, Timișoara, Cluj, Oradea etc. Moreover, as a conductor, he went in tours and was invited to conduct orchestras in France, Italy, Germany, Slovakia, Portugal, Spain, Greece, Russia, South Korea and Bulgaria.
The creations of the composer Valentin Doni, member of the Composers and Musicologists Union from the Republic of Moldova and Romania, were presented in the Republic of Moldova, Romania, Slovakia, Russia, Ukraine, France. For his special merits and outstanding achievements in the field of arts, Valentin Doni received the title of Master of Arts from the President of the Republic of Moldova in 1999, and in 2002, the French Government awarded him the title of "Knight of the Order of Arts and Letters". Currently, Valentin Doni works as a permanent conductor at the "Mihail Jora" Philharmonic in Bacău.

Oana Csíky, pianist and academic
She was born in 1985, in Craiova and started her musical studies at the Marin Sorescu Art High School in her hometown, in the piano class of professors Lucia Cristea and Liviu Pârvu, continuing them in Cluj Napoca, at the "Sigismund Toduță" Music High School with Prof. Kovács Zsófia. Between 2003-2007, she studied at the "Gh. Dima" Academy of Music in Cluj Napoca, in the piano class of Assoc. Dr. Csíky Boldizsár, where she will also do a master's degree in music art at this higher music institution, between 2007-2009.
She has been awarded several national and international contests, mentioning here: Carl Filtsch - Sibiu, Pro Piano - Bucharest, Hungarian Music Festival - Bucharest. she has participated in master classes with renowned pianists: Walter Krafft, Csíky Boldizsár, Georg Sava, Pier Narcisso Massi, Theodor Paraschivescu. In 2006, she obtained a scholarship from the Romanian Ministry of Culture, and in 2007 from the "Nova Harmonica" Foundation in Italy.
As a soloist, she has given various concerts with the philharmonic orchestras of Craiova, Oradea, Sibiu, Arad, Târgu Mureș, Bacău, CChișinău, as well as solo recitals both in the country and abroad (Hungary, Germany, Austria, Italy). She has collaborated with famous conductors, among which we mention Gheorghe Costin, Mihail Agafița, Dumitru Goia, Walter Hilgers, Theo Wolters, Valentin Doni, Romeo Rîmbu, Cristian Sandu.
Along with her solo work, she has performed in numerous chamber recitals with prestigious performers such as cellists Cristian Florea, Török Zsolt, Csíky Borka, pianist Csíky Boldizsár and soprano Camelia Clavac. In the summer of 2013, she obtained her doctoral thesis in Cluj-Napoca entitled Clara Schumann: Performer, musician, composer. Currently, she is a PhD lecturer at the "Gh. Dima" Academy of Music in Cluj.

Ticket prices: 80 lei; 40 lei groups; 20 lei (pupils, students, seniors)
Ticket agency, Calea Unirii, no. 16
Phone: 0251.414.698
Agency program: Monday-Friday; 10 a.m. to 6 p.m.
Public access is limited to 30% of the room capacity, based on a green certificate or PCR / antigen test.

Translated by Mara-Sabina Rolea,
University of Bucharest, Faculty of Foreign Languages and Literatures, MTTLC, year I
Corrected by Silvia Petrescu