> [Archived] Events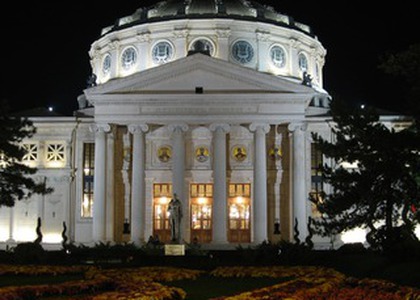 Conductor Marc Tardue and pianist Mihai Ungureanu, in the season of the George Enescu Philharmonic
Monday, 28 February 2022 , ora 9.43

On Thursday, March 3rd and Friday, March 4th, the Symphony Orchestra of the George Enescu Philharmonic led by the American conductor Marc Tardue presents Symphony no.1 in D major, Op. 25, Classical, by Sergei Prokofiev, Concerto for piano and orchestra no. 11 Hob. XVIII:5 by Joseph Haydn, with pianist Mihai Ungureanuas soloist, and Symphony no. 1 in C major, Op. 21 by Ludwig van Beethoven.
Classical Symphonypremiered on the 21st of April 1918 in Saint Petersburg, under the direction of composer Sergei Prokofiev, and became one of his most well-known and loved symphonies. "My idea was to compose a Haydn-style symphony […] I thought that, if he was alive today, he would keep on composing in the same style, but would also add new elements to his music. I wanted to compose a traditional symphony that is faithful to this principle. I called it Classical first because it's a simple title, but also to annoy the philistines, hoping that it would come in handy if the symphony would actually turn out to be "classical", said the composer.
Concerto for piano and orchestra no. 11 Hob. XVIII:5 was composed by Joseph Haydn between 1780 and 1783, having many similarities with Mozart's piano concertos. Haydn and Mozart got acquainted before 1784, when this concert was made public. Mozart admitted Haydn's major role in the music development and he sometimes called him "Papa Haydn" in his letters.
About Symphony no. 1 in C major, Op. 21, performed in the second part of the concert, musicologist Mihai Cojocaru states that "In Symphony no. 1, Beethoven not only hides The Heroic and The Fate Symphony, but also the spontaneity of Symphony no. 4 or the parody of no.8."
Thursday and Friday, March 3rd and 4th 2022
The George Enescu Philharmonic Symphony Orchestra
7PM, the Concert Hall of the Romanian Athenaeum
Conductor
MARC TARDUE
Soloist
MIHAI UNGUREANU
Program
Sergei Prokofiev
Symphony no. 1 in D major, Op. 25 Classical
Joseph Haydn
Concerto for piano and orchestra no. 11 Hob. XVIII:5
Ludwig van Beethoven
Symphony no. 1 in C major, Op. 21
Ticket prices:
1st category:110 lei
2nd category: 100 lei
Tickets can be purchased from:
The box office of the Romanian Athenaeum
Hours: Tuesday - Friday 12PM-7PM. Cash payments only.
Online, on www.fge.org.ro - "Calendar" section. Once purchased, the tickets can only be
refunded in the conditions provided by law.
Access to the hall of the Romanian Athenaeum is allowed "with the participation of the public according to the law; only if all participants are vaccinated against SARS-CoV-2 and for whom 10 days have passed since the third dose of the vaccine, or persons who are between day 15 and 180 following confirmation of SARS-CoV-2 infection and wearing a protective mask." Verification of these conditions will be made before entering the Romanian Athenaeum.

Translated by Alexandra Lica,
University of Bucharest, Faculty of Foreign Languages and Literatures, MTTLC , year II
Corrected by Silvia Petrescu