> [Archived] Events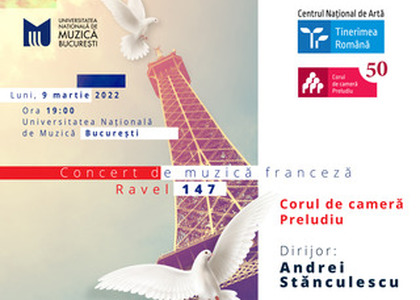 Preludiu Chamber Choir – French music concert
Thursday, 3 March 2022 , ora 7.51

Preludiu Chamber Choir, conducted by Andrei Stănculescu, is inviting the public to a special concert on the 9th of March, at 7 PM, at the "George Enescu" Hall of the National University of Music in Bucharest (UNMB), a concert held in collaboration with the "TinerimeaRomână" National Art Center (CNATR), Radio RomâniaMuzical, and the National University of Music in Bucharest and presented by the director of Radio RomâniaMuzical, LiviuPețu. Flavian Chitic will be accompanying on piano/harpsichord and CostinDumitrașcu on lute/theorbo.
The audience will have the opportunity to hear the Preludiu Chamber Choir perform choral works from the repertoire genrerarely performed in our country, from Josquin des Prez, Guillaume Costeley, Jean-Philippe Rameau, to Georges Bizet, Camille Saint-Saens and, of course, Claude Debussy, Francis Poulenc and Maurice Ravel:Trois chansons, Nicolette, Trois beaux oiseaux du Paradis, Ronde and, last but not least, the famous Bolero, arranged by Andrei Tănăsescu.
The conductor, Andrei Stănculescu stated before this concert: "The Preludiu Chamber Choir puts forward a musical odyssey that celebrates the composer Maurice Ravel and sketches a historical map of the making of his music."
The concert at UNMB will be preceded by another one, on the 7th of March, at 7 PM, hosted by the French Institute of Romania in Bucharest, an event marking the historical relationship between the two countries, a result of the collaboration between the "Tinerimea Română" National Art Center and the French Institute.

Translated by Cristina-Bianca Ion,
University of Bucharest, Faculty of Foreign Languages and Literatures, MTTLC, year I
Corrected by Silvia Petrescu