> [Archived] Events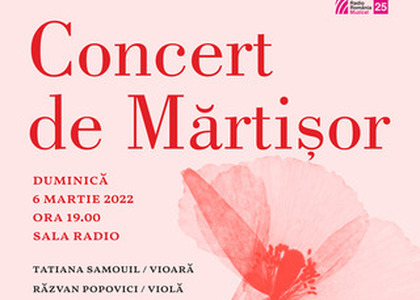 Mărțișor concert, at the Radio Hall, on March 6th
Friday, 4 March 2022 , ora 15.43

What is the best way to celebrate spring and love for those who treasure beauty and value? A chamber concert at the Radio Hall, proposed by SoNoRo and Radio România Muzical, with big names in the international music scene: violinist Tatiana Samouil, pianist Shani Diluka and violinist Răzvan Popovici.
A Mărțișor Concert with jewels of classical music, in a festive and relaxed atmosphere, such as the events SoNoRo and Radio România Muzical: in the program - Rachmaninov, Schubert, Tchaikovsky, with the most famous woman-composer of the nineteenth century- lea, Clara Schumann.
Sunday, March 6th, at 19.00, a Mărțișor Concert that becomes a tradition, being organized for the third consecutive year; In the foreground are three important names - violinist Răzvan Popovici, the soul of SoNoRo festivals, along with two musicians we can rarely hear in Romania: pianist Shani Diluka and violinist Tatiana Samouil.
The name of the violinist Răzvan Popovici, the initiator and organizer of the SoNoRo phenomenon, is already well known in Romania. SoNoRo is a cultural platform that includes chamber music festivals, national and international tours and an extensive educational project. The name of Răzvan Popovici, as a member of the Raro Ensemble, appears on 8 highly successful albums internationally. Răzvan Popovici has also been conducting the Chiemgauer Musikfruhling festival in Traunstein / Germany for 17 years. Many young musicians from three continents have benefited from his guidance in several master's courses. Since 2018, RăzvanPopovici is also a visiting professor at the Royal Conservatory of Antwerp, Belgium. However, Viola remains her great passion: the numerous concerts held on major international stages, along with some of the most important names, are proof of this.
Violinist Tatiana Samouil (born in 1974 in Perm, Russia) made her debut at the age of 9 with the National Orchestra of Moldova, conducted by her father, Alexandru Samuilă. She studied in Moscow, Brussels and Madrid; She is currently combining his prodigious work as a concert soloist with that of a teacher at the Brussels, San Sebastian and Antwerp Conservatories. She has won numerous prizes at some of the most important competitions in the world, including the third prize at the Tchaikovsky Competition in Moscow (2002) and the first prize at the Michael Hill Competition in New Zealand (2001). No less important is Tatiana Samouil's discography, comprising over 20 titles, including one with chamber music by George Enescu. One of her most famous appearances worldwide was the concert with Yuri Bashmet, in 2014, at the end of the Winter Olympics in Sochi, hosted by Russia.
Pianist Shani Diluka (born in 1976 in Monaco, from Sri Lankan parents) began studying the piano as part of the program initiated by Princess Grace of Monaco to support talented young people. She graduated from the Paris Conservatory in 1997; Her mentors include legendary names: Maria Joao Pires, Murray Perahia, Martha Argerich. Currently, she is one of the great pianists of France, with a relevant career both as a concert soloist and as an accompanist of some famous musicians, for example, Nathalie Dessay. Her discography includes almost 30 titles, many of them rewarded with numerous prestigious awards in the French cultural space.

Media partners: Radio România, Agerpres, Adevărul, Dilema veche, Cariere magazine, Zeppelin, liternet.ro, Hotnews, spotmedia.ro, news.ro

Co-producers: Radio Romania Musical and SoNoRo Association.

Partners: UniCredit Bank and Rotary Club Pipera

Tickets are available on the www.iabilet.ro network

Translated by Medeea Alexandra Stan,
University of Bucharest, Faculty of Foreign Languages and Literatures, MTTLC, year I
Corrected by Silvia Petrescu