> [Archived] Events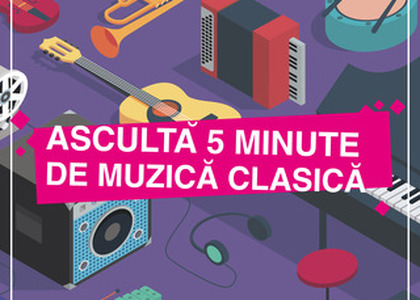 Listen toclassical music for 5 minutes - for peace and solidarity, between March 1st and 31st
Friday, 4 March 2022 , ora 15.47

Supermarkets, malls, bookstores, museums, company headquarters: these are the unconventional spaces where the great music of all times will be heard every day of March, within the project "Listen to 5 minutes of classical music", initiated by Radio Romania Music and conducted without interruption since 2010.
In March 2022, the campaign is under the sign of peace and solidarity, of the music that unites, of compassion for those affected by the war. Violinist Alexandru Tomescu, concert soloist of Radio Romania Orchestras and ambassador of the project "Listen to 5 minutes of classical music":"We need classical music more than ever. When many of the landmarks around us seem to be overturned, we can find support, relief, energy in music. I strongly believe in the power of music to shape our character, to make us more empathetic, to open our eyes to the needs of our neighbours. To make us better people, every day. The "Listen to 5 minutes of classical music" campaign is our chance for a better life, not just in terms of spiritual view. For 25 years, Radio Romania Music has brought into our homes and souls the strength, balance, and unbridled joy of classical music. I dare to say that our lives would not have been the same without this unique radio station."
Famous musical works become a part of the sound environment proposed by the project partners, all in the interpretation of some prestigious Romanian performers - brand recordings from the Radio Romania archive. Among them, the Romanian Rhapsody op. 11 no. 1 by George Enescu, with the George Enescu Philharmonic Orchestra, conductor Sergiu Celibidache, recordings of the National Radio Orchestra and the Radio Chamber Orchestra, with illustrious names of conductors at the desk - Cristian Măcelaru, Cristian Mandeal, Horia Andrescu; recordings with famous soloists, such as pianists Radu Lupu and Dan Grigore, violinists Alexandru Tomescu and Liviu Prunaru, cellists Marin Cazacu and Ștefan Cazacu, pianist Dan Mizrahy.
The project partners are important names in Romanian retail and business: Carrefour Romania, Cora Romania, Bran Castle, Mobexpert, Dedeman, CRH Romania, Cărturești Bookstores, Humanitas Bookstores, Iulius Mall in Iași, Timișoara, Cluj and Suceava, Palas Mall Iași, ParkLake Shopping Center and Băneasa Shopping City in Bucharest, PwC Romania, Avia Motors, Timpuri Noi Square, Business Garden Bucharest. With the support of Mood Media.
The March 2022 edition also marks the 25th anniversary of the founding of Radio România Muzical, which began broadcasting on March 24th, 1997. Cristina Comandașu, the initiator of the project "Listen to 5 minutes of classical music", editor-in-chief of Radio România Muzical:"In troubled times, I hope that classical music, in spaces where we are not used to listening to it, will bring what we are all looking for: balance, serenity, moments of peace, a break from the daily tumult, relief, openness to our friends. That is exactly what it brings to the homes of those who have been listening to Radio România Muzical for 25 years. and only 5 minutes, or more than that, every day, on Radio România Muzical. Everything that society has had the best of the last hundred years can be found in classical music - and I hope you enjoy these moments of Value and Tradition, listening to even just 5 minutes, or more than that, every day, on Radio România Muzical. Thanks to the project partners, who have been with us for the past 12 years."
The "Listen to 5 Minutes of Classical Music" project has a 12-year uninterrupted history in unconventional venues across the country. The first edition took place in October 2010 and since then, during March and October, every day, the public had the chance to discover or rediscover the great opposites of classical music, in unexpected spaces, auditions welcomed both by customers and employees of project partners. Within the same project, over time, concerts were organized with Romanian musicians, who enjoyed great success with the public.
Since 2014, "Listen to 5 minutes of classical music" is also a national program in Romanian schools. In the last school year, 2020-2021, this program was attended by almost 230,000 students from Bucharest and 31 other counties in the country; the project is also underway during the 2021-2022 school year. Students are offered to listen, each week, to two musical works accompanied by explanations related to composers and performers.
More information about this campaign can be accessed on the page www.romania-muzical.ro/5minutewhere you can listen to both the songs proposed in unconventional spaces and those proposed to students in schools.

Translated by Georgiana-Carmen Rădulescu,
University of Bucharest, Faculty of Foreign Languages and Literatures, MTTLC, year I
Corrected by Silvia Petrescu