> [Archived] Events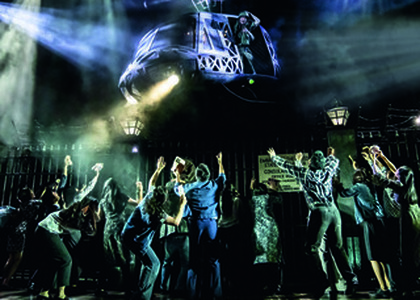 Miss Saigon
Monday, 7 March 2022 , ora 14.03

It just so happens that in the past few months I've been in direct contact with a mother who 19 year old daughters wishes to take classes at an institute. It just so happens that in the past few months I've been in direct contact with a mother who 19 year old daughters wishes to take classes at an institute which trains musical performers. The girls is extremely talented, beautiful, energetic, her musical education is refined and diverse, hard-working, passionate and truly in want of such a career whose price she is ready to pay with dedication, concentration, seriousness and a lot of sweat. She has participated in admissions competitions for serious schools in Wien, Munich and Essen. She has found herself in competition with hundreds of others, crossing her qualities with those of who already possessed competition experience and were objectively older. When I listened to the stories, I recalled the golden years of Romanian drama education, back when thousands who wanted to become actors would compete over a few places, and those who made it through have created wonderful generations of extraordinary Romanian actors! Those times are slipping way more and more, and today, less and less people remember how admissions exams once took place at the theatre in Bucharest and around the country. We know the results and receive them with a powerless sigh. However, it appears that it hasn't turned out this way everywhere. Because, look at the serious and diverse trials and tribulations an admissions candidate has to go through at one of the aforementioned institutions: hearing and rhythm exam, solfeggio, musical improvisation, physical resistance, diverse dance, dance improvisation, poetry and prose recitation, stage improvisation, stage presence, spoken text improvisation, memory, reaction spontaneity… and I've surely missed a few. Just listing the exams can impress and intimidate. And all of this for a possible entryway into the business! The courage, confidence, passion and preparation must an applicant have! On her third try, after making it to the finals every time and competing against 180 rivals at one 19 years of age, Anna - the girl I've been talking to you about and whom I admire greatly, has managed to become one of the three winners of the much desired spot at the Essen musical school. The fact that she has experienced this fight, these emotions and ambition makes me appreciate today's musical performances even more.
And this is how I made it to the Miss Saigon show in the current season at Wien's Raimund Theatre. It's the Sir Cameron Anthony Mackintosh version whom critics describe as a British theatre producer who has made himself remarkable through his association with many commercial musical successes. In 1990, at the height of his career, Sir Cameron Anthony Mackintosh was considered the most successful, influential and powerful theatre producer in the world (New York Times). Many years ago in London I witnessed two of the signature C.A. Mackintosh productions: Les Miserables and Miss Saigon. It left such an impression on me that if I close my eyes now I can still clearly see the scenes that have impressed me so much. These productions now travel around the world in a set format, and if someone buys them, they can't intervene. In the case of Miss Saigon, when I stepped into the Wien Raimund Theatre I was excitedly waiting for the well-known moment when a real helicopter descends on stage and saves the American soldiers by taking them away from the death in Vietnam. The moment did come and it impressed me as much as it did the first time through the emotional impact, sounds effects and technical stage performance - all of them remarkable! Is this the commercial success that Sir Cameron Anthony Mackintosh had been fervently looking for? Surely! But behind these few seconds when the audience forgets to breathe - same as for the entire show which implies difficult set changes and a large cast - there is an enormous effort where only professionals with many years of studies and experience are involved. And in this case, the word commercial loses its negative connotations and becomes a form of art in its highest quality for which the audience - specialist or amateur - is willing to pay tens or even hundreds of euros. As proof, musicals such as Cats, The Phantom of the Opera, Mary Poppins, Les Miserables, Miss Saigon, all created by Cameron Mackintosh as performed almost every day for tens of years on the largest musical stages in the world and always in front of full audiences.
Miss Saigon (1989) retells, in a more updated version, Giacomo Puccini's opera Madama Butterfly/Cio-Cio-San. An unfortunate love story now takes place between an American soldier and a delicate Vietnamese. Puccini's Japan transforms into 1975 Vietnam/Saigon as imagined by composer Claude-Michel Schönberg and playwright Alain Boublil. Laurence Connor was the producer who made spectacular use of vocal and balet ensembles and alternated heavy political scenes with intimate ones dominated by love, faith and hope. Carefully picked, the cast includes Dutch performers OedoKuipers/ Chris and Gino Emnes /John, Filipinos Aynrand Ferrer /Kim and Christian Rey Marbella/ Codoșul and Korean James Park / Thuy. All of the actors, dancers and singers are excellent, with rich experience performing on international musical stages. Their evolution has been impeccable from every point of view. I get a strange feeling when I realised I can't speak of every performer and say that they're very, very, very good at what they do. All the performers I watched in this production of Miss Saigon are artists with backgrounds in specialty school and have performed great roles in other similar productions. As I remember the Cabaret I saw in Volksoper I realise that excellence is the norm on musical theatre stages! I still feel the need to highlight the charming performance of Filipino artist Christian Rey Marbella. In the German translation, his role translates as The Engineer, signalling a character who changes things, situations and destinies around according to his own will and intentions. Christian Rey Marbella's stage presence is overwhelming. A powerful dancer, a chameleonic actor, a very expressive singerwith a well-trained and nuanced voice. Impeccable diction in a very difficult language that's far from his mother tongue. This role - traditionally casting performers of Asian origins - marks his debut in Wien theatre. It will surely not be his last one.
This production of the musical Miss Saigon has received over 70 nominations and awards, among which three Olivier and three Tony awards. In the in the past 30 years over 36 million people and 32 countries have watched this exceptional performance. I was delighted to be in the Wien Raimund Theatre on Friday February 18th to watch it again. The instrumental musical part was masterfully performed by the Wien VereinigtenBuhnen Orchestra conductedby Herbert Pichler.

Photo credit: Jonah Persson
Cristina Sârbu
Translated by Carla Bețianu,
University of Bucharest, Faculty of Foreign Languages and Literatures, MTTLC, year I
Corrected by Silvia Petrescu