> [Archived] Events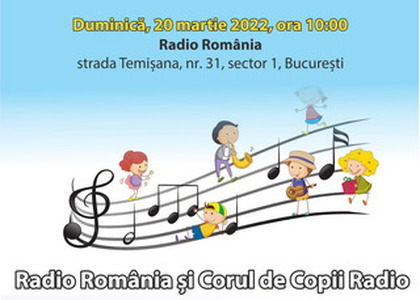 Radio Children's Choir launches a new project for the little ones: "School of Choir" - Music and movement workshop
Monday, 14 March 2022 , ora 9.43

A genuine cultural ambassador of Romania abroad and a "nursery" of talents for the Romanian music scene, Radio Children's Choir celebrated its 75th anniversaty in 2020. Its current activity supported by Radio România ensemble means music, dance, screening video etc. - presented on the stage of the Radio Hall - the periodic recording of some albums made by Casa Radio Publishing House and participations in diverse and prestigious events, such as the evolution on the stage of the''George Enescu" International Festival.
For admission to the ''School of Choir" project, the little ones are invited to PRESELECTION on the 20th of March 2022 (Sunday), at 10 AM, at Radio România headquarter on Temișana Street, no. 31, sector 1, Bucharest.
The admission test will consist of the interpretation of a song with Romanian text.
The age limits are:
7-13 - for girls
7-10 - for boys
The contest's sign ups will be made on the preselection day. You can contact us for details at coruldecopiiradio@gmail.comor on our Facebook page Corul de Copii Radio.
*
Founded in 1945, Radio Children's Choir is truly a school which educates the young generations through music and a ''nursery" of talents for the Romanian music scene. Here, Ileana Cotrubaș, Silvia Voinea, Voicu Enăchescu, George Crăsnaru, Roxana Briban, Roxana Constantinescu and many others took their first steps in their artistic career. The founder of the choir, the conductor Ion Vanica, followed by Elena Vicica, Eugenia Văcărescu Necula, Voicu Popescu and today Răzvan Rădos, contributed decisively to the artistic career of the ensemble.
In 2015, the Children's Radio Choir qualified - along with 8 other ensembles from around the world - in the final in Munich of one of the most prestigious international choral competitions: LET THE PEOPLES SING. The contest is a popular event in the vocal music circuit, under the auspices of the European Broadcasting Union.
The more than 50 participations in festivals, artistic tours and international competitions in almost all the countries of Europe, Japan, USA and Canada, brought to the ensemble Radio Romania distinctions and awards. Moreover, in 2004, the choir was honored to receive the title of "CULTURAL AMBASSADOR OF THE EUROPEAN UNION", awarded by the Federation of European Union Choirs.
The performances of the Radio Children's Choir go beyond a simple concert, the musical moments being completed by dramatic play, suggestive props and video projections. Recitals, a cappella concerts, contributions to the performance of vocal-symphonic masterpieces with the National Radio Orchestra, the Radio Chamber Orchestra, the George Enescu Philharmonic Orchestra, the Munich Philharmonic, the Bavarian State Orchestra - under the baton of great Romanian and foreign maestros Iosif Conta, Horia Andreescu, Christian Badea, Jing Wang, Lawrence Foster, Wayne Marshall, Zubin Mehta etc. - revealed the special interpretive qualities of the band.

Translated by Mara-Sabina Rolea,
University of Bucharest, Faculty of Foreign Languages and Literatures, MTTLC, year I
Corrected by Silvia Petrescu