> [Archived] Events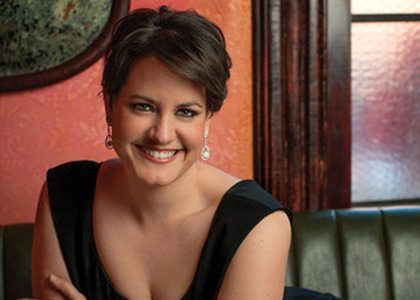 New role debut at the MET: Elza van den Heever in "Rodelinda"!
Tuesday, 22 March 2022 , ora 15.31

I assume you remember, the last major hit at the MET before the Covid-19 pandemic - which led to the suspension of the 2019-2020 and 2020-2021 seasons - was opera "Agrippina" by Haendel; directed by David McVicar, with Joyce di Donato in the main role, and music by Harry Bicket. And it was a major success! Which justifies my enthusiasm in recommending the live broadcast on Saturday, March 19th, of "Rodelinda": composed by Georg Friedrich Haendel and led by preclassic opera expert, Sir Harry Bicket, with the South African soprana Elza van den Heever (42 years old) in the main role. She hails a wonderful, dramatic soprano voice and an exceptional sense for dramatic works.
Elza van den Heever had a thundering debut in 2013, in the opera "Maria Stuarda" by Donizatti (in the role of Queen Elisabeth) - in which she rose above mezzosoprana Joyce di Donato (Maria Stuarda), and she quickly became one of the most appreciated and loved artists at the MET. Alongside current undertakings, the famous New York lyrical theatre invited her to participate in the "Wagnerians in Concert" Gala, as well as in the dialogues that Peter Gelb started during the pandemic and, last but not least, offering her the chance to claim memorable debuts in roles such as: Elettra in opera "Idomeneo" by Mozart, Marie in "Wozzeck" by Alban Berg, and Rodelinda in Haendel's "Rodelinda, regina de' Longobardi", on stage for the first time this season.
"Rodelinda's score is a great challenge for me" - said Elza van den Heever in an interview with at the Metropolitan Opera Radio. "It's a marathon-score, comprised of 6 big arias, all very adorned, and they need to be built up very carefully. Besides that, the public might compare me to Renee Fleming, who debuted Stephen Wadsworth's work 10 years ago, and is still beloved here. Which would flatter me of course, but I'm telling you now that it would have nothing to do with who I am."
Finding out how different Elza van den Heever's interpretation of Rodelinda is to that of Renee Fleming's is just one more reason for you, dear listeners, not to miss Saturday's opera night. So remember: Saturday, March 19th, with soprano Elza van den Heever as Haendel's Rodelinda. British countertenor Iestyn Davies will be playing Bertarido and Czech bass-baritone Adam Plachetka will take the role of Garibaldo.
Luminița Arvunescu
Translated by Bianca-Maria Ciucașu,
University of Bucharest, Faculty of Foreign Languages and Literatures, MTTLC, year I
Corrected by Silvia Petrescu