> [Archived] Events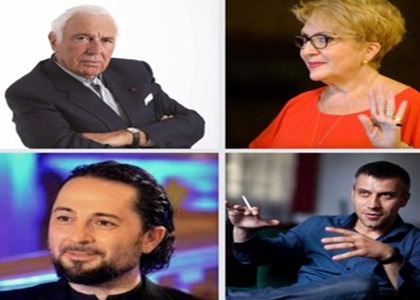 Bucharest National Opera House- in between past and future
Wednesday, 30 March 2022 , ora 9.10

3 editions all about the past and the future of the Bucharest National Opera House.
About the goals, the tenacity and the visionary spirit of the generations that did not hesitate-at the begining of the XX century-to support their dreams with their own money, about the achievements of those who-50 years later-became the "Golden Generation" of the Romanian Opera and today's challenges of an institution that feels the need to "revive itself" after the agony of 2 pandemic years .
It will be all about the Romanian cultural institution with the "heaviest name." The institution that has the biggest buget from the state, and with the biggest team as well.
And of course- a question- that we cannot avoid during the 3 dialogues from every show-the one concerning the very future of Romanian Opera. So, what will the Bucharest National Opera do to ensure their future generations, both at an artistic and technical level, as well as at the level of the public?
The famous Romanian-British soprano and much-appreciated canto teacher Nelly Miricioiu will be answering that question. She has come back to the country for an exceptional anniversary NELLY MIRICIOIU-70 Gala ( on the 31st of Mars) and 5 days of masterclass in between the 2nd and the 6th of April at ONB. We will also discuss it with the conductor Daniel Jinga- the Interim General Manager of the institution. Both of them are invited to a LIVE discussion, on Monday, the 28th of Mars starting at 19 o'clock.
Then, on Saturday, the 2nd of April ( at 19 o'clock) we will broadcast the dialogue with Mr.Ioan Holender- an exceptional interlocutor! -about the "golden" voices of the Opera of Bucharest. A discussion followed by excerpts from the show that marked, on the 8th of December of last year, 100 years since ONB became a State Institution: meaning the performance of the opera "Lohengrin" by Richard Wagner signed by Silviu Purcărete, under the musical direction of the conductor Tiberiu Soare (" Lohengrin" being the title with which the newly established institution has opened its doors a century ago, with George Enescu as a conductor).
And then, on Saturday, the 9th of April( at 19 o'clock) we will broadcast the dialogue with the conductor Tiberiu Soare about the dimension of the repertoire and putting forward the young artists of ONB. The dialogue will be followed by selections from the performance of the opera "Don Carlo" by Giuseppe Verdi, presented by the Bucharest National Opera on the 3rd of February.
So,there will be 3 editions under the title Opera Night, dedicated to the Bucharest National Opera House-the one that was and the one that remains...
Luminița Arvunescu
Translated by Ioana Busuioc,
University of Bucharest, Faculty of Foreign Languages and Literatures, MTTLC, year I
Corrected by Silvia Petrescu