> [Archived] Events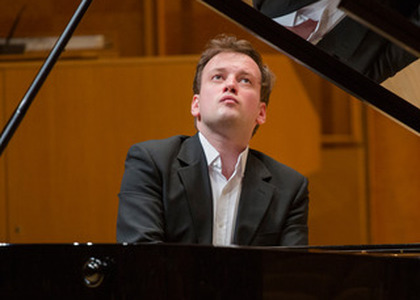 Radio România Muzical Nights - 25. Pianist's Mihai Ritivoiu Recital
Thursday, 31 March 2022 , ora 8.57

On Thursday, March 24th, for the 25th anniversary of Radio România Muzical's activity, the pianist Mihai Ritivoiu held an extraordinary recital on Sala Radio's stage. As part of the "Heirs of Musical Romania" project, the performance began with a piece titled "Wanderings" composed by the pianist himself during the pandemic. Mihai Ritivoiu's musical creation captured the gloomy atmosphere of isolation, interspersed with moments of hope and meditation, and with ephemeral anxieties. There are instrumentalists who compose solely to prove their technical skills, or solely for the composer title. Mihai Ritivoiu, on the other hand, is among those who managed to send a message, and that is admirable.
The first half of the recital unfolded in the same manner that inspired introspection - we listened to Franz Schubert's "Impromptu Op. 142 No. 1", and two other lieder composed by Schubert and transcribed by Franz Liszt: "You are Rest and Peace" and "The Erl-king". The compositions by Mihai Ritivoiu complemented these romantic aesthetics. The authenticity of interpretation was the main characteristic of the recital, which continued with "Valses Nobles" by Franz Schubert and "Valses nobles et sentimentales" by Maurice Ravel. The performance ended with Frederic Chopin's "Barcarolle Op. 60". The audience's enthusiasm for the recital was visible, as was the enthusiasm for Radio România Muzical's anniversary:
"Splendid! I enjoyed it very much, especially since lately we hadn't had the opportunity…"
"Wonderful! He is brilliant! I also heard him in the "Heirs of Musical Romania" concert and he is just as talented. I wish you all the best from now on too!"
"Very, very enjoyable, especially because it's been a long time since we last went to Sala Radio. Today we arrived in Bucharest from Brasov and we really wanted to come to the concert. I would have also enjoyed tomorrow's concert."
"We liked it! That's why we came. I also listen to Radio România Muzical and it's a pleasant experience for the evenings when you want to break out of your routine."
"Like always with a Radio România Muzical recital, for which Rotary Club Pipera was an event partner, thanks to the organizers, to the Radio România Muzical team, and to Ms. Comandasu… it was extraordinary! I was impressed, so I want to congratulate the entire Radio România Muzical team! Happy anniversary! And congratulations to Ms. Comandasu for all that you do together with your team!" - Dan Popescu, President of Rotary Club Pipera, about the recital organized for the 25th anniversary of Radio România Muzical's activity for its public.
The event held within the "Heirs of Musical Romania" project was organized by our radio station together with Rotary Club Pipera and presented by Cristina Comandasu, editor in chief for Radio România Muzical.


Photo: Alexandru Dolea
Petre Fugaciu
Translated by Ioana Diana Sandu,
University of Bucharest, Faculty of Foreign Languages and Literatures, MTTLC, year I
Corrected by Silvia Petrescu