> [Archived] Events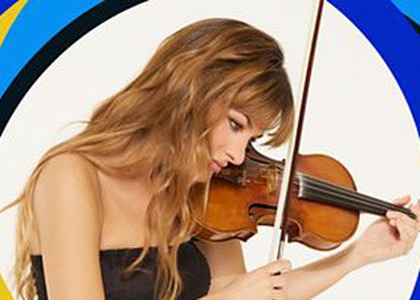 LIVE from the Barbican Hall: the violinist Nicola Benedetti and the conductor Sakari Oramo exploring 20thcentury pages
Monday, 11 April 2022 , ora 10.32

For those in London this weekend, Barbican Hall comes forwards with a very interesting invitation, which - through a live transmission facilitated by Euroradio - we can also enjoy, at Radio România Muzical, on Friday night, 21:30. The soloist of the program conducted by Sakari Oramo,who's leading the BBC Symphony Orchestra, is Nicola Benedetti - a genuine star in the contemporary world of violinists.
Erich Korngold's Concerto for Violin and Orchestra has become a constant on the posters of the last decades, giving the protagonists the chance to prove their brilliant virtuosity during the last part, but also lyricism during the middle part… The wordsthat the composer of so many famous film soundtracks used to describe his appreciation when listening to this concert 75 years ago in Jascha Heifetz's version refer not only to the soloist's performance, but also to what this creation actually seeks: "Caruso and Paganini in one person"!
Rued Langgaard's Symphony No. 1 is the surprise choice ofthe second part of the program.
We already know that the BBC Symphony Orchestra is a precise, malleable musical "instrument", with a beautiful interpretative experience in an extremely wide repertoire register. As a prestigious ensemble of a radio company that celebrates this year a century since its premiere date, this collective has constantly practiced its versatility in modern and contemporary music; that is why the inclusion of a totally unknown name, for us, on the poster for the April 8th did not come as a surprise to me, especially when SakariOramo - this orchestra's conductor, whose preoccupations are constantly related to the music of the 20th century as well as more recent music - is announced to take the lead.
Perhaps many of us have imagined that the symphony chose by the Finnish conductor would be the work of a modern artist, but … it looks as if the truth is quite different:
The score was completed around 1910 (following several biographical notes) by a young Dane of… only 17 years old!
It was successfully performed three years later by the Berlin Philharmonic, under the baton of Max Fiedler.
The monumental work (subtitled "Mountain Pastorals") reflects an excellent knowledge of the evolution of orchestral writing from Tchaikovsky to Wagner and Richard Strauss, as well as knowledge of the Brucknerian symphonic construction, a sort of soaring romance, with descriptive references, sometimes based on classical patterns that also remind us of Schubert…
During his 59 years alive, Rued Langgard went through compositional phases that led some to believe and say that this child prodigy with outstanding talent as an organist became at some point in his youth an avant-garde artist, seeing even half a century ahead, and later in his life went back in time, getting inspired by eras from almost 50 years before… The arguments for such opinions were provided by the approximately 400 works (including 16 symphonies and other ample orchestral creations) of the Dane who disappeared in July, 7 decades ago.
Scenaeuropeană invites you to explore these compositional facets of the 20th century on Friday, the 8th of April, 21:30.
Anca Ioana Andriescu
Translated by Cristina-Bianca Ion,
University of Bucharest, Faculty of Foreign Languages and Literatures, MTTLC, year I
Corrected by Silvia Petrescu