> [Archived] Events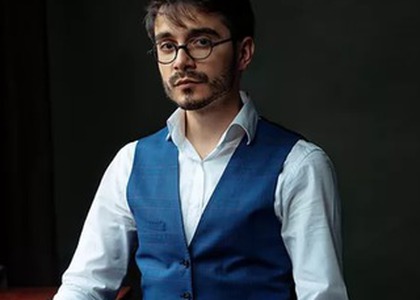 Composer portrait of Sebastian Androne-Nakanishi - composer of the year 2022 within International Classical Music Awards
Monday, 11 April 2022 , ora 10.41

As his creation includes approximately 100 opuses to date, Sebastian Androne-Nakanishi's name is important for the young generation of Romanian composers. He was born in 1989, studied at the National University of Music Bucharest, and finished his Phd degree Magna cum laude in 2018, having Dan Dediu as his doctoral advisor. He perfected his musical education at the Conservatoire National Supérieur de Musique et de Danse and at the Birmingham Conservatoire, and also attended masterclasses focused on the most diverse stylistic areas. His creation continually pushes the boundaries of genres, while also maintaining consistency in the area of chamber and symphonic music, as well as in areas of theater, film and even ballet. Sebastian Androne-Nakanishi is a composer with a rich writing arsenal, who is preoccupied with transforming forms and with conceptual representations, and who manages to materialize with sonority various abstract concepts. Many of his works have been awarded within important competitions based in Romania (competitions like "George Enescu", "Ștefan Niculescu", "Paul Constantinescu", and "Majura"), and in other countries, such as France, Switzerland, Japan and China.
This year, at Radio România Muzical's initiative, Sebastian Androne-Nakanishi participated in the International Classical Music Awards, where he was named "composer of the year", this title being one of the 26 awards selected out of 377 international nominalizations. The Romanian musician will appear on the poster for the ICMA Gala, which will take place on the 21st of April at the Philharmonie Luxembourg.
With this occasion, I invite you to enter in direct contact with the art of composer Sebastian Androne-Nakanishi through the 5 episodes dedicated to him within the "Sunete contemporane" show, which will be broadcasted on Radio România Muzical from Monday, the 11th of April, to Friday, the 15th of April.
Dan Ghineraru
Translated by Ioana Diana Sandu,
University of Bucharest, Faculty of Foreign Languages and Literatures, MTTLC, year I
Corrected by Silvia Petrescu