> [Archived] Events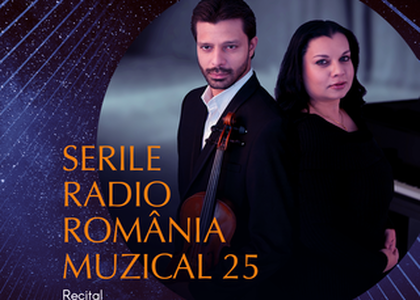 "Radio Romania Muzical - 25" Nights. Recital by violinist Razvan Stoica and pianist Andreea Stoica
Friday, 6 May 2022 , ora 13.41

A new recital on the Sala Radio stage is organized by Radio Romania Muzical as a gift to its audience for the 25th anniversary: the beloved violinist Razvan Stoica and his sister, pianist Andreea Stoica, will be on the Sala Radio stage on Thursday, the 2nd of June, at 7pm.
Pieces of great virtuosity will be coupled with profound opuses for violin and piano, as the evening's schedule includes the concert rhapsody "Tzigane" by Maurice Ravel, "Chaconne in G Minor" by Tomaso Vitali, "Suite italienne" by Igor Stravinsky and "Sonata D 574 in A Major" by Franz Schubert.
The recital will be followed by the launching of the "Lost in translations" album, which came out in 2021 at Casa Radio Publishing House, and was recorded by the two musicians together with Kamerata Stradivarius, an ensemble founded by Razvan Stoica with whom he has already performed across the world. At the end, Razvan and Andreea Stoica will be signing autographs.
At the moment, Razvan Stoica is one of the most well-known and beloved Romanian violinists; he is one of the current stars discovered by Radio România Muzical. In 2013, Răzvan Stoica participated, at Radio Romania Muzical's proposal, in the "New Talent" competition in Bratislava, held under the auspices of EBU (European Broadcasting Union), a competition he otherwise won,thus becoming the first Romanian in history with such an accomplishment. The award opened up new opportunities for him, both nationally and internationally. In the following years, Răzvan Stoica performed in several concerts on the stage of Sala Radio in Bucharest, and recorded several records under the auspices of Casa Radio Publishing House.
Răzvan Stoica plays on a 1792 Stradivarius violin that he was awarded to use in an international competition in which he competed against 170 other participants.
The Stoica siblings have been a duo since 1996; Andreea Stoica is, in her turn, a great caliber pianist. The two studied in Romania at first, then in the Netherlands, where they have settled, although they frequently return to Romania for concerts and for many other artistic projects.
Tickets for the 2nd of June recital are available at www.iabilet.ro.
Media partners: Radio România, Rador, Agerpres, Dilema veche, Hotnews, revista Cariere, Zeppelin, liternet.ro, spotmedia.ro, news.ro

Translated by Ioana Diana Sandu,
University of Bucharest, Faculty of Foreign Languages and Literatures, MTTLC, year I
Corrected by Silvia Petrescu