> [Archived] Events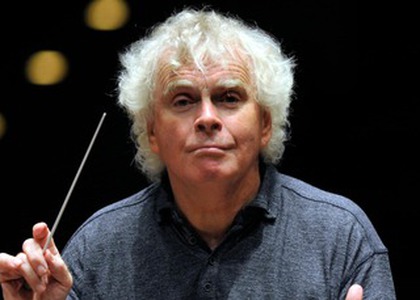 Robert Gerhard and Antonín Dvořák live from Berliner Philharmoniker
Monday, 16 May 2022 , ora 9.21

During his tenure as chief conductor of the Berliner Philharmoniker, Simon Rattle frequently presented Dvořák rarities. At his debut with the Berliner Philharmoniker in 1987, he won them over with his energetic conducting style, his unconditional passion for music and his artistic visions. That made him the strongest candidate to succeed Claudio Abbadio in 2002. During his 16-year tenure, Sir Simon was, along with his musicians, responsible for many important initiatives setting the orchestra's future course: founding the Stiftung Berliner Philharmoniker (Berlin Philharmonic Foundation), creating the Education programme as well as the Digital Concert Hall video portal, and the label Berliner Philharmoniker Recordings.
Since the end of his tenure, Sir Simon Rattle - currently music director of the London Symphony Orchestra and designated principal conductor of the Symphonieorchester des Bayerischen Rundfunks - has continued to maintain close ties with the Berliner Philharmoniker. In May alone, Sir Simon Rattle will perform six concerts with the Berlin ensemble, the first three featuring works by Robert Gerhard and Antonín Dvořák.
On Friday, May 13th, at 9 pm, on Radio Romania Muzical, you are invited to the second evening proposed by the German musicians who, under the baton of Sir Simon Rattle, will present two rarely heard works from Antonín Dvořák's creation: Scherzo capriccioso, Op. 66, which the orchestra last performed in 1933, and the "American" Suite, Op. 98, which has never been on the programme of the Berliner Philharmoniker's orchestra. Critics note the unmistakable affinity of the "American" Suite with the famous Symphony "From the New World".
Another novelty of the May 13th programme is the music of the Catalan composer Roberto Gerhard: a student of Schoenberg, whose works fascinatingly combine avant-garde and Spanish sounds. "Dances from Don Quixote" and Symphony No. 3 "Collages", these are the works chosen by the musicians of the Berliner Philharmoniker, conducted by Sir Simon Rattle.
Radio România Muzical will cover this concert on Friday, May 13th, 2022, at 9pm, as it will be broadcasted during the European Stage show.
Jeanine Costache
Translated by Ioana Diana Sandu,
University of Bucharest, Faculty of Foreign Languages and Literatures, MTTLC, year I
Corrected by Silvia Petrescu